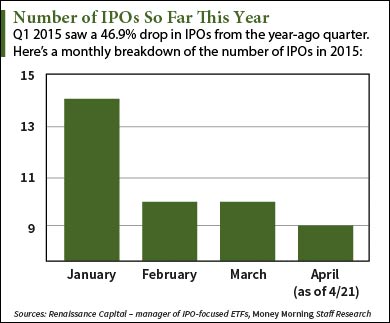 There are three deals on the upcoming IPO calendar this week. According to Renaissance Capital, a manager of IPO-focused ETFs, they're expected to raise a combined $427 million.
The trio follows last week's strong performance, which included four billion-dollar IPOs. Etsy Inc. (Nasdaq: ETSY) roared out of the gate, gaining 88%. Etsy become the best first-day return for a tech IPO all year. Aduro BioTech Inc. (Nasdaq: ADRO) leaped 147% and is the third IPO of 2015 to more than double on the first day.
Leading the pack this week is National Storage Affiliates Trust (NYSE: NSA). It will be the fifth real estate investment trust (REIT) IPO so far this year, already matching last year's count.
Here's a look at all of the deals on this week's upcoming IPO calendar…
Three New Offerings on the Upcoming IPO Calendar
National Storage Affiliates Trust (NYSE: NSA) is a REIT that acquires, owns, and operates regional self-storage facilities. The company owns 225 properties in 13 states, totaling about 12.4 million rentable square feet. That makes it the sixth-largest owner of self-storage properties in the United States. NSA plans to raise $320 million by offering 20 million shares at a $15 to $17 price range. It commands a market valuation of $880 million and will debut on Thursday, April 23.
NSA competes with Jernigan Capital Inc. (NYSE: JCAP), another self-storage REIT that went public in March. Jernigan raised $100 million at a $105 million valuation. JCAP stock has gained 6.5% since its debut. Other REIT IPOs this year include InfraREIT Inc. (NYSE: HIFR) and Easterly Government Properties Inc. (NYSE: DEA). Those stocks have gained 39.1% and 7.3% respectively since their IPOs.
Money Morning Members: Keep reading for the rest of this week's upcoming IPO calendar. For those new to Money Morning, sign up to keep reading – it's completely free…