After Yahoo earnings yesterday (Tuesday), investors have to ask themselves, "Is Yahoo stock worth buying?"
The Yahoo stock price got a nice lift in pre-market trading today. But Yahoo earnings weren't a ringing endorsement for the company's ailing core business.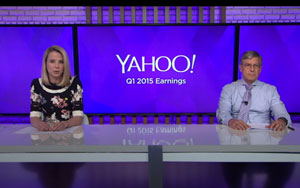 Yahoo! Inc. (Nasdaq: YHOO) missed on both top- and bottom-line quarterly estimates. The online search and display ad company posted revenue of $1.04 billion, against Wall Street's predicted $1.06 billion. EPS came in at $0.15, while analysts forecasted a $0.18 figure.
This now makes for declining revenue in nine of the last 11 quarters for Yahoo CEO Marissa Mayer. She took over an embattled Yahoo in 2012 and was enlisted to turn the company around. And this recent season for Yahoo earnings is further evidence that she has a long, painful road ahead of her.
So, is Yahoo stock worth buying today?
Is Yahoo Stock Worth Buying? Not for This One Reason
In answering the question, "Is Yahoo stock worth buying?" you first have to consider Yahoo's core business model.
Yahoo has two main drivers of revenue, both of which focus on selling online advertising space. Yahoo will sell ads against searches and against content. In 2014, Yahoo's search revenue raked in $1.8 billion. Its display ads – ads placed on Yahoo's content (News, Sports, Finance, etc.) – totaled $1.9 billion in revenue.
So, why is Yahoo trouble?
It's because selling online ads is a tough business. To excel in it, these companies need to provide an intriguing reason for advertisers to sell on their platform. Yahoo has, for a long time, been asleep at the wheel.
Google Inc. (Nasdaq: GOOG, GOOGL) is the undisputed leader in generating ad revenue from search.
It has, over the years, created the most innovative algorithms and built up the most trusted brand name. It has a market share in search of around 74.8%, according to StatCounter. Pound for pound, Google is infinitely superior in search to Yahoo. Yahoo has little chance of cutting into Google's share of ad dollars in that space.
Then there's Facebook Inc. (NYSE: FB). Facebook got out in front of the growth of social media in the mid-2000s and now has about 1.4 billion daily active users on its platform who are highly engaged. It's created an innovative way to sell ads that are seamlessly integrated into its social media interface. It's done so well that it's been eating up a lot of ad dollars that could otherwise go to Yahoo's display business.
On both fronts, Yahoo really doesn't stand a chance. Just look at the current make-up of the market. In 2014, Google was the unquestionable leader in its share of global ad revenue dollars. The search giant generated $59.1 billion. Facebook came in second at $11.5 billion. Yahoo wasn't even third with its $4.6 billion figure. It trailed even Chinese search engine Baidu Inc. (Nasdaq: BIDU), which generated $7.8 billion.
What's even more telling is the growth. In 2009, Yahoo's share of the global ad revenue came in at $5.7 billion. That means that over the last five years, Yahoo's ad revenue has fallen 18.6%. By comparison, Google's has grown 158% from $22.8 billion in 2009. Facebook's has grown more than 1400% from $764 million in 2009.
Plain and simple, Yahoo hasn't found a way to revolutionize selling ads in the digital space, while its competitors have.
And Mayer's turnaround strategy is not showing much promise.
Mayer has a few goals for Yahoo. And to her credit, she's identified these right areas for growth…