The pipeline of new IPOs looks especially healthy right now. One reason: Q1 venture capital investments in the United States are reaching their highest level in 15 years.
The number of deals, 1,020, was down slightly from the 1,027 made in Q1 of 2014. But the amount invested was up 26% to $13.4 billion, according to a new MoneyTree Report from PricewaterhouseCoopers and the National Venture Capital Association based on data from Thomson Reuters.
It marked the fifth consecutive quarter in which VC investing exceeded $10 billion.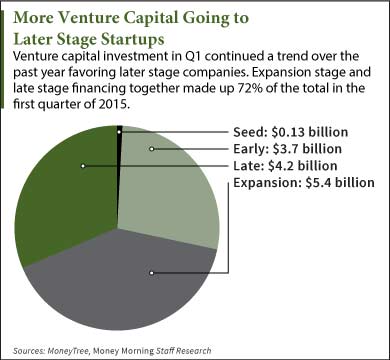 And most of that money went to more mature startups in later rounds of VC investing. That suggests a wave of new IPOs due to hit within the next two years. Promising companies typically have an initial public offering within a year or two of a late-stage investment.
In Q1, $4.7 billion, or 31%, of the funding went to late-stage deals. And another $5.4 billion went into expansion-stage deals, the level just prior to late-stage financing.
And a dozen of the deals in the quarter exceeded $100 million, another sign to expect a batch of new IPOs. At that point, it usually makes sense for a company to fulfill further capital needs by going public.
One relatively new trend driving the rise in later stage VC investing is higher participation from mutual funds and private equity funds unwilling to wait for these companies to go public.
"What we have here is a pattern where this incremental money is all coming from outside venture capital," John Taylor, head of research at the National Venture Capital Association, told Xconomy.
That additional money has created dozens of "unicorns" – startups worth $1 billion or more. Until the past few years, startups with such lofty valuations were almost unheard of. Now The Wall Street Journal has an entire Web page devoted to them, and lists 83 unicorns worldwide.
Most of the companies that landed the biggest rounds of funding in Q1 are unicorns. These nine startups are top candidates to be new IPOs in 2015 or 2016…