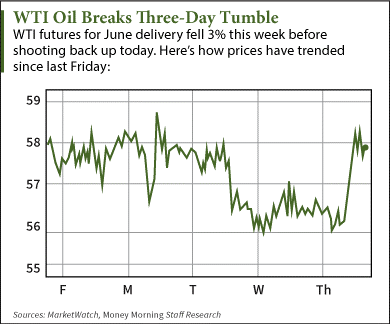 Crude oil prices today (Thursday) settled at their highest level of the year after China released declining manufacturing data.
At 2:30 p.m. – when energy futures stop trading for the day – WTI oil settled up 2.81% at $57.74 a barrel. WTI has performed tremendously in the last month, gaining 14.9% since March 23.
Brent oil rose nearly 3.4% to $64.85 a barrel. The London benchmark has shot up 25.9% since its 2015 low of $51.51 on Jan. 20.
The abrupt tear in crude oil prices today came after news broke about the China Manufacturing Purchasing Managers Index (PMI) – which measures the country's manufacturing activity. The index fell to a one-year low of 49.2 this month, less than the March PMI of 49.6.
China is the second-largest oil consumer in the world, and its demand is linked to economic growth.
The Energy Information Administration (EIA) also helped the market with its weekly report. The data showed lower oil production for the second consecutive week.
According to Money Morning Global Energy Strategist Dr. Kent Moors, today's activity is a sign of growing worldwide demand. In fact, the thirst for crude oil is accelerating faster than expected…
Why Crude Oil Prices Will Keep Moving Higher
Although forecasts are all over the map, oil demand will continue to rise throughout the year. Oil's use in everyday needs such as building infrastructure is depleting inventory much more quickly than anticipated.
"Much of this surge is driven by pent-up needs from developing industrialization and economic diversification," Moors explained. "Some is the result of changing energy trading patterns, and a fair amount is from the simple dynamic that markets use more energy as the price declines."
Declining production has also been boosting demand. Baker Hughes Inc. (NYSE: BHI) just reported a 19th consecutive weekly fall in the U.S. rig count. The number of North American rigs fell by 53 to a total of 1,034.
As supply and demand keep pushing in the right directions, Moors says spring and summer will make crude oil prices bloom again.
Top Money-Making Tips for Today:
Follow me on Twitter: @AlexMcGuire92