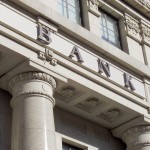 The rebound in Q1 Fixed Income, Currency and Commodity (FICC) revenues at big broker-dealers like JP Morgan, Morgan Stanley and Goldman Sachs has emboldened some investors to pile back into the sector. Deutsche Bank's record-breaking $2.5 billion fine for manipulating benchmark interest rates shows that it's probably wiser to stay away.
True, the German behemoth's stock yawned at the news, falling less than half a percent in early New York trading. Some investors might see the fine as marking the end of this long, sordid affair - and want to get in early on a potential rebound. But this also could be the tip of the iceberg, legally speaking, as investors and counterparties who lost money on trades with Deutsche feel emboldened to call their lawyers.
Also, it's hard to find a significant asset class that contributes a lot of FICC revenue that hasn't been messed around with in recent years. ISDAFIX - the interest rate swap benchmark - came under scrutiny in 2012 after investigators found evidence that banks manipulated LIBOR, EURIBOR and other interest rate benchmarks. More recently, widespread manipulation of the massive and opaque foreign exchange market has been discovered, resulting in investigations and fines by regulators around the globe.
Investors who think they've got a handle on banks' exposure to regulatory risk - or who believe the worst is behind the sector - should take pause from the fact that Deutsche recently said it would take a litigation charge of about $1.6 billion - far short of the fine unveiled today.
Investors' exuberance over Q1 performance has been reflected in the recent rise in the NYSE Arca Securities Broker Dealer Index (INDEXNYSEGIS:XBD), which tracks the industry's share performance. But banks still face a potentially rough ride from regulators - and it's unclear whether the improvement in FICC revenues was the beginning of a trend or a dead cat bounce. Investors should proceed with caution.