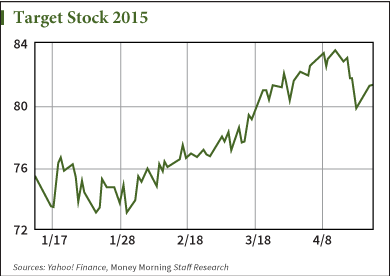 Target stock came on Wall Street's radar this week, climbing up 2.2% from last week's close.
Target Corp. (NYSE: TGT) stock generated a lot of buzz this weekend. On Sunday, the mass merchant retailer rolled out a "Lilly Pulitzer for Target" line. They stocked their shelves with high-fashion items from the Palm Beach designer.
The promotion, Target representatives admitted, was supposed to last weeks. But long lines in stores across the country ensured that in hours the shelves were cleaned out of their Lilly Pulitzer merchandise. And online demand forced Target to shut down its website momentarily, The New York Times reported.
The limited-time promotion was a welcome change for Target and by extension Target stock. Whereas just a little more than a week ago the company was entering settlements with MasterCard Inc. (NYSE: MA) over the 2013 cybersecurity breach, and in January it was winding up its operations in Canada, it is now being lauded for its marketing acumen.
There is always some hesitancy on the part of investors when it comes to investing in retail stocks.
Just look at the trials and tribulations of teen clothiers Abercrombie & Fitch Co. (NYSE: ANF), American Eagle Outfitters (NYSE: AEO), and Aeropostale Inc. (NYSE: ARO). RadioShack Corp. (OTCMKTS: RSHCQ) went bankrupt in February. Sears Holding Corp. (Nasdaq: SHLD) seems to be gearing up for a similar fate.
Brick-and-mortar retailers are a tough sell. They have to deal with fluctuations in consumer spending and tastes. And they're victim to a change in consumer buying patterns favoring massive online vendors like Amazon.com Inc. (Nasdaq: AMZN).
"This is not a good time to be invested in physical retail," Money Morning Defense and Tech Specialist Michael Robinson said. "The balance of power has shifted to e-commerce."
Yet, there is a still a case to be made for Target stock…
The Case for Investing in Target Stock Today
A very telling moment for Target – and TGT stock – was in January. Management was faced with a money pit in its Canada operations. It became clear that for at least the next five to six years, the company would be bleeding profits by operating up north.
"It's definitely a challenging environment," said Money Morning Global Resource Specialist Peter Krauth. "Part of it is that operating retail businesses is just a costlier thing to do [in Canada] – with higher costs of employee benefits and more of a geographically challenging and sparsely populated country."
There were certainly some troubles with Target's foray into Canada – they mispriced merchandise and established no meaningful online presence. But, they ultimately did make the right judgment in closing up shop and reassessing their strategy.
"Despite the fact that things didn't turn out too well in Canada, I think that top management was eventually, at least, willing to take their lumps and see where the mistakes were," Krauth said. "I think that speaks well to upper management."
The market took kindly to Target's cleanup after the Canada debacle. Since Target announced the closing of all its 133 Canadian stores, Target stock has risen about 8.2%.
Here's what the Canadian incident highlights in terms of Target stock's value…