Since the first exchange-traded fund (ETF) debuted in January 1993 (the SPDR S&P 500 ETF Trust [NYSE Arca: SPY] or "spider" for short), ETFs have experienced a tremendous growth spurt and increased popularity. Today, there are more than 1,600 ETFs.
Now there's an ETF for nearly every sector and investment strategy.
So what are the best ETFs for 2015? These three are tapped into key sectors on the rise this year...
Best ETFs for 2015, No. 1: The Cybersecurity Boom ETF
The president has made cybersecurity one of his top priorities of 2015.
"Cyberthreats pose one of the most serious economic and national security challenges to the United States," U.S. President Barack Obama said in a statement.
Every year, cybercrime costs the global economy more than $575 billion. That's more than 3% of America's 2014 GDP. And it reflects the huge demand from countries, companies, and individuals determined to protect themselves.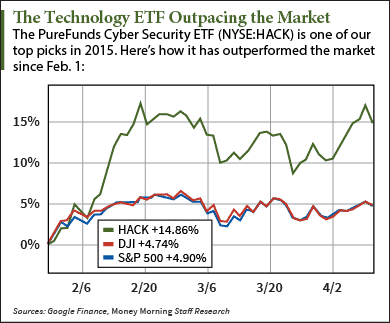 By 2019, cybersecurity spending will reach $155.74 billion, according to market research firm MarketsandMarkets. That's a 63% growth rate.
That's why one of the best ETFs for 2015 is the PureFunds ISE Cyber Security ETF (NYSE Arca: HACK). HACK offers investors a more stable play on the entire industry, instead of picking specialized companies that may have volatile stocks.
Money Morning Small-Cap Investing Specialist Sid Riggs first recommended this ETF to his readers in February. Since then, HACK has climbed 15.42%.
"One of the things I really like about HACK is its industry-specific diversity," Riggs said. "HACK is most heavily invested in the systems software industry, which will prove to be a great stabilizing force for the fund. That's the sphere of the IT sector that's been growing most reliably since 2010, with the consulting firm Gartner Inc. already forecasting enterprise software to grow by 7.3% in 2015."
This tech ETF has more than $500 million in assets and has an expense ratio of 0.75%. An average of 359,000 HACK shares are exchanged on a daily basis.
Hack opened today at $30.74 and has a range of $24.44 to $30.74 since its November debut.
Best ETFs for 2015, No. 2: The Legacy Tech ETF
Fidelity Nasdaq Composite Index Tracking Stock (Nasdaq: ONEQ) is an ETF that mirrors the tech-focused Nasdaq Composite Index. This is a fund that you should be looking to own for many years.
Money Morning Defense and Tech Specialist Michael Robinson considers it to be a foundational ETF. "The shrewdest investors will look at this as an investment they'll want to own for a long, long time - if not forever."
ONEQ is dominated by big-cap tech. Its top 10 holdings are a "Who's Who" of tech leaders in mobile, the Web, cloud computing, biotech and e-commerce: Apple Inc. (Nasdaq: AAPL), Microsoft Corp. (Nasdaq: MSFT), and chip giant Intel Corp. (Nasdaq: INTC). It also includes biotech leader Gilead Sciences Inc. (Nasdaq: GILD), e-commerce king Amazon.com Inc. (Nasdaq: AMZN), and social networking icon Facebook Inc. (Nasdaq: FB).
Though ONEQ - by definition - is focused on technology, the fund also provides some nice diversification. The ETF holds about 1,940 stocks, 46% of which are tech related. Consumer cyclicals, financial services, and industrials make up another 25% of ONEQ's holdings.
ONEQ opened today at $199.91 and is up 7.63% year to date.
This final best ETF for 2015 lets investors capitalize on this year's lucrative M&A activity...