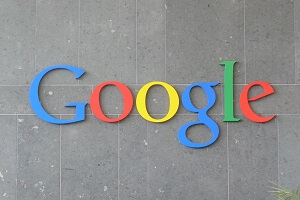 Google Inc. (Nasdaq: GOOG, GOOGL) released earnings after closing bell Thursday. It missed on both earnings and revenue.
But that didn't stop the Google stock price from climbing as high as 4.3% Friday.
Money Morning Chief Investment Strategist Keith Fitz-Gerald knows why that is.
"Contrary to what the rest of the world believes, Google earnings are all but irrelevant except in the very short term."
Fitz-Gerald, a seasoned market analyst who has followed Google since its founding in 1998, spoke with me prior to earnings on Thursday.
That's when he urged investors to ignore the noise from analysts and media speculators regarding GOOG earnings.
"What Google does at its core – information management – is such a bigger, broader topic than a myopic quarterly view earnings give you," Fitz-Gerald said. "Instead, analysts should be looking ahead 10-15 years to judge investing in Google stock."
He predicted Google earnings would do what they always seem to do – affirm the company's strength.
Indeed they did – despite the miss.
Just take a look at these numbers…
Google Stock Price: Earnings Breakdown
Google reported first quarter earnings per share (EPS) of $6.57, $0.03 under expectations. It reported revenue of $17.26 billion, a $240 million miss.
"This quarter, Google turned in a strong performance and this despite substantial currency headwinds," CFO Patrick Pichette said on the firm's earnings call. He added that a strong U.S. dollar led to a gross negative currency impact on revenues of $1.1 billion for the quarter.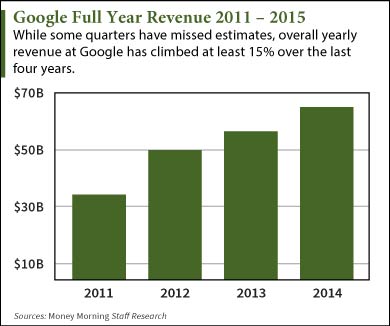 Q1 2015 revenue was still 11.9% above revenue reported in the same quarter a year ago. (Google stated, in its earnings release, that excluding the net impact of foreign exchange, revenue grew "a healthy" 17% from the year-ago period.)
That's in line with a long-term upward revenue trend that's become a virtual tradition for the Silicon Valley giant.
In 2014, full-year GOOG revenue came in at $66 billion, a 19% increase year on year. It grossed $57.86 billion in 2013, $50.18 billion in 2012, and $37.91 billion in 2011.
What's more, Q1 ad sales rose 11% year-over-year to $15.51 billion.