Netflix Inc. (Nasdaq: NFLX) has been one of the biggest winners of 2015, having gained more than 65% year to date. That compares to a gain of just 0.8% for the Dow Jones and 2.1% for the S&P 500 during the same time.
Now, shares are priced over $565 per share. They hit an all-time high of $576.13 after reporting Q1 earnings in mid-April.
And that has many investors asking us the same question: "Should I buy Netflix stock?"
To understand where NFLX stock is going, we have to look at what's fueled its run in 2015... then you will see if Netflix stock is the right investment for you...
What's Behind Netflix Stock's 2015 Tear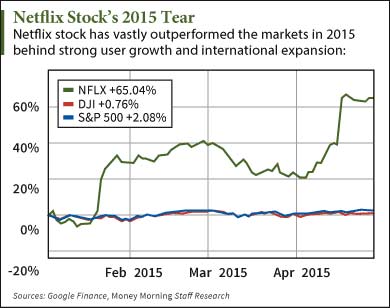 On April 15, Netflix reported earnings per share (EPS) of just $0.38 for Q1. Estimates had called for EPS of $0.69. Revenue was in line with expectations at $1.57 billion for the quarter.
But NFLX stock still soared more than 17% the following day.
The first reason investors looked past dismal earnings numbers was the firm's strong user growth. Netflix's global user total reached 62.3 million in Q1. The company's goal had been 60 million. In the first quarter alone Netflix added 4.9 million new members.
Of those additions, 2.6 million were international compared to the company's forecast of 2.25 million. Netflix has been working to grow its international user base and this quarter's performance was a huge success. Netflix is now available in over 50 countries.
The third reason the stock has soared is the company's focus on original programming. The third season of "House of Cards" as well as new shows "Unbreakable Kimmy Schmidt" and "Bloodline" were highly touted by the company in Q1.
While Netflix stock has been unstoppable in 2015, it doesn't mean retail investors should buy in now. In fact, here are two major areas of concern for shareholders in 2015...