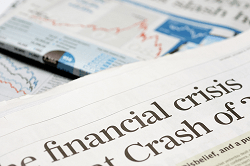 The Fed meeting today (Tuesday) will adjourn tomorrow with a predictably vague statement about how the U.S. Federal Reserve's Federal Open Market Committee is considering rate hikes on a meeting-by-meeting basis.
But what won't be discussed at the Fed meeting today or tomorrow is how it's that same FOMC that has been setting the stage for the next global financial crisis...
You see, the Fed may be taking its foot off the easy money pedal. But in the years that led up to this anticipated 2015 rate hike, they took the lead in recasting the role of the Fed - as a guarantor of destructive big bank practices. And it has led the world's central banks to follow suit.
Three rounds of quantitative easing were billed as a stimulative monetary policy measure that would bring more liquidity to the system, unclog credit markets, and get a slow-moving economy kicked into gear.
But it was really a feint in a much larger game of papering over the real problems underlying a fragile financial system.
"The one thing that central banks the world over don't want to have happen is a default. They don't want a run on the banks," Money Morning Chief Investment Strategist Keith Fitz-Gerald said. "So they are doing everything they can to maintain the illusion of prosperity. And that means prop banks up, save them... whatever."
It's hardly a secret at this point that QE is a giveaway to the banks. It gives those who loaded up on toxic assets an escape hatch, as the Fed takes those assets off their balance sheets and credits their reserve accounts.
This was done under the guise of stimulating lending. But as long as the rest of the economy is deleveraging and not taking out loans, this bolstering of reserves does little on this front. What it does instead is give the banks an opportunity to make free money by arbitraging Fed funds.
But what it's ultimately done is stave off an inevitable collapse. It's propped up financially shaky institutions without making them accountable for their past indiscretions.
All while allowing the same bad practices to continue unabated, and to, ultimately, pave the way for a collapse...
Here's just how bad this situation is...