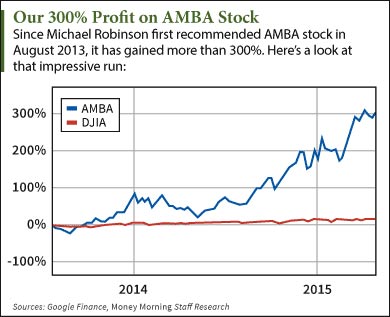 One of our favorite tech investments is Ambarella Inc. (Nasdaq: AMBA) stock, which has climbed 46.4% in 2015.
We recommended this tech stock well before 2015. Money Morning's Defense and Tech Specialist Michael Robinson told readers about this profit play in August 2013. Since then, AMBA stock has soared 305%.
Fortunately, AMBA stock's run is not over. In fact, we just received another "Buy" signal for this innovative tech stock...
AMBA Stock's Latest Buy Signal
Ambarella is a video compression and processing-technology company. It is best known for developing the technology behind GoPro Inc.'s (Nasdaq: GPRO) wearable cameras.
AMBA is a small-cap stock with a market cap of just $2.3 billion. In the last four earnings reports, AMBA has beaten earnings estimates by an average of 29%. In the upcoming quarter, analysts are expecting earnings-per-share (EPS) growth of 132% and revenue growth of 62.5%.
Operating margin is healthy too, at 25.7%.
But the best number - and recent "Buy" signal - came from Canaccord Genuity. At the end of March the firm maintained its "Buy" rating on the stock and raised their AMBA stock price target to $81.
AMBA closed yesterday at $72.01. Reaching $81 would be a 12.5% gain from yesterday's closing price.
One thing boosting AMBA stock is its partnership with Google Inc. (Nasdaq: GOOG, GOOGL).
In November, it announced a partnership that centered on Google's "Helpouts" service app. "Helpouts" will let teachers, counselors, doctors, home repair specialists, personal trainers, and others to offer their paid or free expertise via real-time online video. Google is tapping Ambarella to provide the chips.
"For a small company like Ambarella, hooking up with a heavyweight like Google is incredibly bullish," Robinson said at the time.
But it's not just the partnerships with Google and GoPro that will push AMBA stock higher in 2015 ...