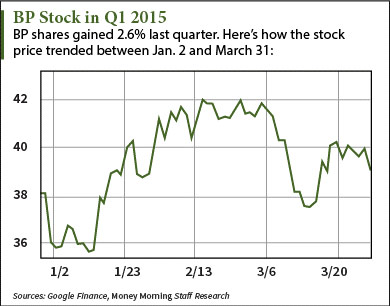 BP Plc. (NYSE ADR: BP) reported its first-quarter earnings before market open yesterday (Tuesday). It is the first of the largest Big Oil companies to release Q1 numbers.
The BP stock price is up about 1% since then, even though BP Q1 earnings report fell short of analyst expectations. The company posted $2.1 billion in profit – about 40% less than the $3.48 billion in profit from Q1 2014.
But there's a silver lining in the bleak report…
BP's downstream operations, including refining and chemicals production, reported a profit of $2.1 billion. That's more than double the company's downstream profit from the first quarter of last year.
And this downstream operations sector profit will be what supports the BP stock price going forward…
How the Downstream Sector Can Move BP's Stock Price
Oil companies' downstream operations have surprisingly benefited from low oil prices. Refiners saw sharp revenue increases in 2014's last quarter from these operations.
Total SA (NYSE ADR: TOT) reported a loss of $5.7 billion in Q4 2014 – but earnings from its downstream division more than doubled from the year-ago quarter. Royal Dutch Shell Plc.'s (NYSE ADR: RDS.A) refining business more than tripled from $472 million to $1.54 billion over the same period.
"For years refining has been the ugly duckling in big oil companies' portfolios," reported The Wall Street Journal, "but the sharp drop in crude prices has boosted the sector's profitability."
When oil prices were high last year, refining units dragged down companies' earnings. That's because high crude prices squeezed margins on refined products like gasoline whose prices were lowered by abundant supply.
Now, the performance of companies' refineries has improved as they enjoy strong demand and lower oil prices.
"We are resetting and rebalancing BP to meet the challenges of a possible period of sustained lower prices," BP Chief Executive Robert Dudley said in a statement. "Our results today reflect both this weaker environment and the actions we are taking in response."
Here's where the BP stock price is headed…