In one sense, answering the question "How much money does Apple have?" is easy.
During its Q2 earnings conference call Monday, Apple Inc. (Nasdaq: AAPL) reported that it now has $193.5 billion in cash and cash equivalents on its balance sheet.
That's a big number. What does it really mean?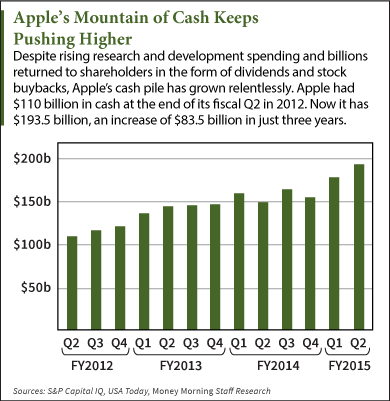 For one thing, it means the AAPL profit machine rakes in an incredible amount of money every hour of every day.
In the March quarter, Apple earned $13.56 billion in net income. That works out to $150.77 million of profit every single day. Or $6.282 million per hour. (If you think that's something, Apple pulled an average profit of $8.3 million per hour in its record-breaking December quarter.)
That's why Apple's cash pile has grown so large. As recently as the end of Q2 of 2012 – exactly three years ago – Apple had $110 billion in cash. That's an increase of $83.5 billion.
That figure is higher than the cash holdings of any other company save one – Microsoft Corp. (Nasdaq: MSFT), which has $107.4 billion. Next on the list is Google Inc. (Nasdaq: GOOG, GOOGL), which has $67 billion – well below Apple's three-year increase.
And the swelling of Apple's cash reserves has come despite a good faith effort to spend it…
Research and development spending has more than doubled over the past three years. And the company has given billions back to shareholders via Apple stock buybacks and Apple dividends. Apple now pays out more than any other company in dividends, $12.1 billion per year.
But let's get back to the question of "How much money does Apple have?" The figure of $193.5 billion is hard for just about anyone to wrap their head around.
So we've come up with some things Apple could do with that money that show how just mind-boggling that amount of cash is…