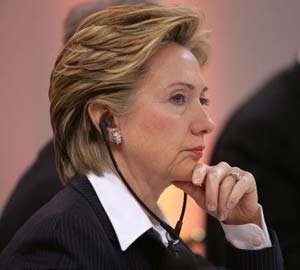 Wall Street ties to our nation's capital are more prevalent than ever.
Sure, the "Washington-Wall Street Corruption Corridor" was exposed for what it is when the financial crisis came to a head in 2009, but only one Wall Street exec was ever actually convicted. (Credit Suisse Group AG's former global head of structured credit, Kareem Serageldin, was sentenced to 30 months in prison on Nov. 22, 2013 for his role in a scheme to artificially inflate subprime mortgage bond prices.)
Most of them are still in the game - the same politicians and policymakers; the same bankers and CEOs.
That's why we had to shake our heads when we saw the tactic the Hillary Clinton 2016 campaign decided to run with the week following her bid announcement on April 12.
She would attempt to be cast as "Hillary Clinton, the Populist."
In a New York Times profile published April 21, Sen. Clinton called for a "toppling" of the 1%. Here's an excerpt from that piece:
"In a meeting with economists this year, Mrs. Clinton intensely studied a chart that showed income inequality in the United States. The graph charted how real wages, adjusted for inflation, had increased exponentially for the wealthiest Americans, making the bar so steep it hardly fit on the chart.
Mrs. Clinton pointed at the top category and said the economy required a "toppling" of the wealthiest 1 percent, according to several people who were briefed on her policy discussions but could not discuss private conversations for attribution."
But as The Anti-Media founder Nick Bernabe was quick to point out in an April 21 op-ed, toppling the 1% would not be in the best interest of the people who've bankrolled Sen. Clinton's rise toward the nation's top position.
Just look at the weighty names on this list of Hillary Clinton's biggest campaign contributors over her career since 1989: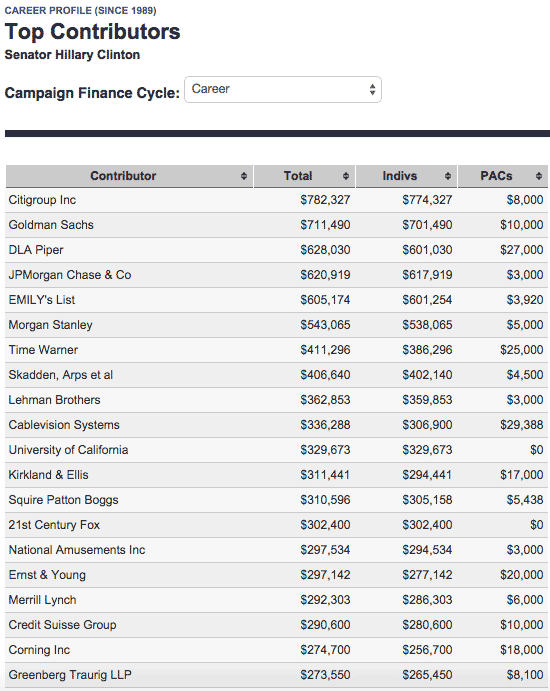 There's a reason Clinton's wealthy, 1%-category donors won't be pulling their contributions out of fear of toppling. They see no bite behind her bark, according to a recent Politico article.
[epom key="ddec3ef33420ef7c9964a4695c349764" redirect="" sourceid="" imported="false"]
"But back in Manhattan, the hedge fund managers who've long been part of her political and fundraising networks aren't sweating the putdown and aren't worrying about their take-home pay just yet," Politico reported on April 15. "It's 'just politics,' said one major Democratic donor on Wall Street, explaining that some of Clinton's Wall Street supporters doubt she would push hard for closing the carried-interest loophole as president, a policy she promoted when she last ran in 2008."
Projections have the Hillary Clinton 2016 campaign raising roughly $2 billion.
Wall Street ties will fuel most of it - the big banks and hedge funds, and their lobbyists.
Tara Clarke is an Associate Editor at Money Morning. You can follow her on Twitter @TaraKateClarke.
The housing "recovery" is fabricated optimism. There's no reason to celebrate anything in the housing market's un-recovery recovery. Here's the truth about the manipulation of celebratory events that end up creating more headwind for the American economy...
#hillaryclinton Tweets

Related Articles: