The Fed meeting today (Wednesday) delivered another humdrum statement soaked in predictable Fedspeak.
The decision? The U.S. Federal Reserve's Federal Open Market Committee is considering rate hikes on a meeting-by-meeting basis. Something we already knew.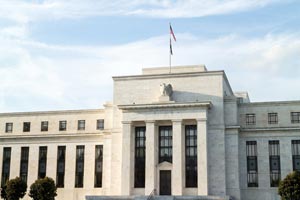 How many more times will we read some variation of this?
"To support continued progress toward maximum employment and price stability, the Committee today reaffirmed its view that the current 0 to 1/4 percent target range for the federal funds rate remains appropriate. In determining how long to maintain this target range, the Committee will assess progress - both realized and expected - toward its objectives of maximum employment and 2 percent inflation," today's FOMC statement read.
In these Fed meetings, the FOMC is wary of spooking the markets. With every statement released, markets are forced to digest a steady diet of vague pronouncements about the future of rate hikes and ambiguous assertions about the health of the U.S. economy.
What markets didn't see in the statement from the Fed meeting today - especially now as the Fed begins to wind down its easy money policies and can thus claim that it's pursuing a "responsible" monetary policy - is just what damage the FOMC has already done to the macroeconomic picture.
The Fed's easy money policy has been a ploy to keep banks afloat. The Fed is terrified of any panics in the financial system.
"The one thing that central banks the world over don't want to have happen is a default. They don't want a run on the banks," Money Morning Chief Investment Strategist Keith Fitz-Gerald said. "So, they are doing everything they can to maintain the illusion of prosperity. And that means prop banks up, save them...whatever."
Three rounds of QE were supposed to get the economy going. But those reserves banks built up on the backs of Fed funds created out of thin air weren't loaned out. Banks arbitraged QE instead. These profits helped them stay afloat.
All while allowing the same bad practices to continue unabated, and to, ultimately, pave the way for a future collapse in global financial markets...
What the Fed Meeting Today Is Leaving Out About the Global Financial System