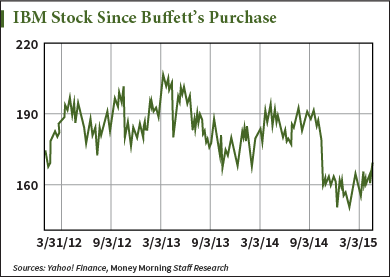 Why did Warren Buffett buy IBM stock back in 2011?
Buffett's stake in International Business Machines Corp. (NYSE: IBM) is an oft-discussed topic among investors. He first revealed that his company invested in IBM in a 2012 shareholder letter. For $10.9 billion he bought up 63.9 million shares in the company for a 5.5% stake.
The troubles for IBM stock weren't entirely visible then. IBM stock climbed to a high of $207.54. Buffett looked like a genius.
But since then, the stock has fallen as much as 28%. Near the end of 2013, IBM lost a bid to handle cloud services for the CIA to Amazon.com Inc. (Nasdaq: AMZN). This was the first sign to Wall Street that IBM was falling out of favor. In October 2014 IBM sealed its fate. That's when IBM CEO Virginia "Ginni" Rometty abandoned a longstanding pledge to deliver an earnings-per-share of $20 in 2015.
IBM stock fell 7.1% that day alone. Then it fell another 3.5% the next day.
IBM shares have struggled to regain those levels since. And suddenly, the Oracle of Omaha isn't the same genius he was back when the stock was trading at above $200.
So why did Warren Buffett buy IBM stock in the first place?
And what's more, why did he double down on his investment and add another 6.5 million shares as of the first 2015 regulatory filing of a stock that was truly struggling?
Here's why IBM stock is so valuable to Buffett...
Why Buffett Likes IBM Stock
Truth be told, Buffett wants the IBM stock price to languish.
How do we know? He said it himself...
"We should wish for IBM's stock price to languish... [Buffett's own emphasis]," he wrote in his 2012 shareholder letter.
In that same letter, Buffett said he expected IBM to spend $50 billion on buybacks over the proceeding five years.
His reasoning was then, and still remains, that IBM buys back a lot of its stock. In fact, since outstanding shares peaked at 2.351 billion in 1994, IBM has reduced its shares outstanding by 1.4 billion.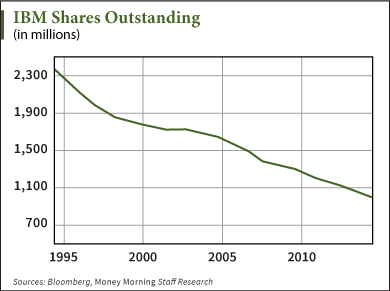 At the time of his purchase, IBM had about 1.16 billion shares outstanding. Berkshire Hathaway had a 5.5% position in IBM.
The further IBM stock would fall, the more shares the $50 billion in repurchases would buy. And in turn, the fewer shares outstanding.
The fewer outstanding shares, the larger Buffett's IBM position and the larger his share of the IBM earnings pie. This is all without him having to buy more IBM stock.
Buffett took advantage of IBM's recent lows in December to build up this position. That's when he added 6.5 million shares.
Now here's how IBM stock buybacks have affected the value of Berkshire's position...