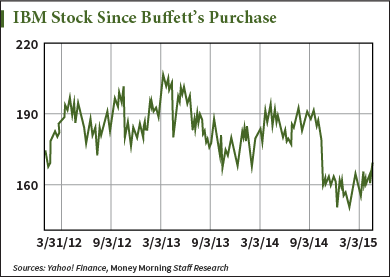 Why did Warren Buffett buy IBM stock back in 2011?
Buffett's stake in International Business Machines Corp. (NYSE: IBM) is an oft-discussed topic among investors. He first revealed that his company invested in IBM in a 2012 shareholder letter. For $10.9 billion he bought up 63.9 million shares in the company for a 5.5% stake.
The troubles for IBM stock weren't entirely visible then. IBM stock climbed to a high of $207.54. Buffett looked like a genius.
But since then, the stock has fallen as much as 28%. Near the end of 2013, IBM lost a bid to handle cloud services for the CIA to Amazon.com Inc. (Nasdaq: AMZN). This was the first sign to Wall Street that IBM was falling out of favor. In October 2014 IBM sealed its fate. That's when IBM CEO Virginia "Ginni" Rometty abandoned a longstanding pledge to deliver an earnings-per-share of $20 in 2015.
IBM stock fell 7.1% that day alone. Then it fell another 3.5% the next day.
IBM shares have struggled to regain those levels since. And suddenly, the Oracle of Omaha isn't the same genius he was back when the stock was trading at above $200.
So why did Warren Buffett buy IBM stock in the first place?
And what's more, why did he double down on his investment and add another 6.5 million shares as of the first 2015 regulatory filing of a stock that was truly struggling?
Here's why IBM stock is so valuable to Buffett...
Why Buffett Likes IBM Stock
Truth be told, Buffett wants the IBM stock price to languish.
How do we know? He said it himself...
"We should wish for IBM's stock price to languish... [Buffett's own emphasis]," he wrote in his 2012 shareholder letter.
In that same letter, Buffett said he expected IBM to spend $50 billion on buybacks over the proceeding five years.
His reasoning was then, and still remains, that IBM buys back a lot of its stock. In fact, since outstanding shares peaked at 2.351 billion in 1994, IBM has reduced its shares outstanding by 1.4 billion.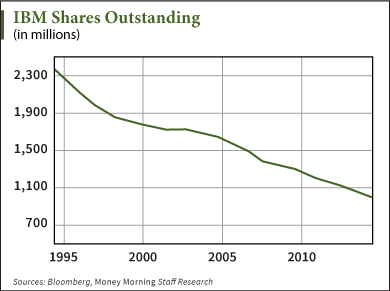 At the time of his purchase, IBM had about 1.16 billion shares outstanding. Berkshire Hathaway had a 5.5% position in IBM.
The further IBM stock would fall, the more shares the $50 billion in repurchases would buy. And in turn, the fewer shares outstanding.
The fewer outstanding shares, the larger Buffett's IBM position and the larger his share of the IBM earnings pie. This is all without him having to buy more IBM stock.
Buffett took advantage of IBM's recent lows in December to build up this position. That's when he added 6.5 million shares.
Now here's how IBM stock buybacks have affected the value of Berkshire's position...
How Much IBM Stock Does Warren Buffett Own?
Between 2012 and the end of 2014, IBM spent close to $40 billion in share buybacks, according to SEC filings. IBM reduced its outstanding shares from the aforementioned 1.16 billion to about 991 million.
Since Buffett's initial IBM purchase, Berkshire Hathaway's position has climbed from 5.5% to 7.8%. Some of that was due to buying on price dips, but let's say Buffett didn't buy a single share after the initial purchase. Without adding a single share, his position would have grown from 5.5% to 6.4%, just due to buybacks.
[epom key="ddec3ef33420ef7c9964a4695c349764" redirect="" sourceid="" imported="false"]
Buffett bought IBM for the same reason he bought Dairy Queen for $585 million in 1997, according to The New York Times. He bought the fast-food chain then because they had low overhead. At the time of the 1997 purchase, Dairy Queen owned only 34 of its stores. The majority of 5,790 locations were licensed. Buffett likes companies with high-margins because it entitles him to more of the earnings as a larger shareholder or - in Dairy Queen's case - as owner.
Even with all its revenue troubles, IBM maintains a high-value strategy. They've sold off low-margin businesses over the years - the PC, the semiconductors, the low-end servers - to increase profitability.
IBM may have real struggles in the tech landscape, but it's not going to go out of business. The company will keep buying back shares and building up its margins. This will increase Buffett's position, and give him a bigger cut of IBM's profits.
But don't follow Warren Buffett into IBM stock.
University of Maryland finance professor, David Kass, a frequenter of Buffett's shareholder meetings, told Money Morning that Buffett's preferred time horizon is "forever."
"The average investor who might piggyback and follow might have a shorter time horizon," Kass said. "Small investors might get frustrated after a few months if IBM has not performed well."
For most investors, IBM stock really has nothing to offer...
"You're talking about a big corporation that at one point in time was at the absolute pinnacle of technology," Money Morning Chief Investment Strategist Keith Fitz-Gerald said. "They missed the Internet, they missed the portable device market, they missed the personal computer market initially, they missed social media, they have missed some really huge ground-changing developments in the tech world. And barring absolute manna from heaven, I can't see IBM being anything but a second-tier player at this point."
The Bottom Line: Maybe IBM will find that "manna from heaven" Fitz-Gerald is talking about. IBM stock may someday overcome its current hurdles and reemerge as a newer, sleeker company. But until there's more evidence of that, it's not profitable to follow Buffett into the company. He can afford to wait "forever" for IBM to right the ship, and have his position built up on buybacks in the meantime. A typical investor can do a lot more with their money in that time.
IBM Could Be a Much Different Company... All of the important consumer tech trends driving the sector in recent years have come from a handful of innovators. Apple, Microsoft, Google... these are the names you think of when you think tech. But believe it or not, before IBM gave up on consumer tech and renewed its focus on enterprise systems and solutions, they had their hand in everything from PCs to smartphones. Here are the four big tech trends IBM tried to capitalize before ultimately ceding those markets to its competitors...
Jim Bach is an Associate Editor at Money Morning. You can follow him on Twitter @JimBach22.