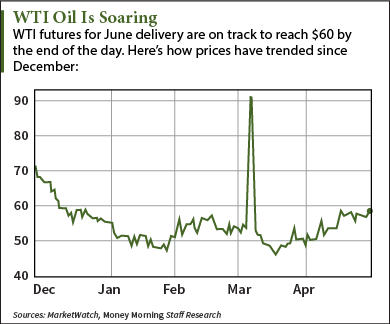 The price of oil per barrel continues to rally toward $60 today (Thursday). The month-long tear inspires bullish hope that oil prices will keep punching through the ceiling to new yearly highs.
By 10:45 a.m., WTI oil was up 0.24% to $58.72 a barrel. WTI futures settled above $58 on Wednesday, their highest settlement all year. They've leaped 13.3% in April.
Brent oil gained 0.26% and traded at $66.02 a barrel. The London benchmark has moved even higher in the last month, up 14% since April 1.
The Energy Information Administration's (EIA) weekly supply report has bolstered the price of oil per barrel recently. The EIA stated Wednesday that U.S. weekly oil stockpiles rose by 1.9 million barrels to 490.1 million barrels last week. The supply boost was less than expected, illustrating a decrease in U.S. production.
"The key issue is whether the latest data represents a directional shift in fundamentals that warrants a more positive view on prices or instead reflects temporary factors that do not negate a persistent and underlying weakness in the U.S. market," BNP Paribas said in a report.
According to Money Morning Global Energy Strategist Dr. Kent Moors, the former is happening. The April rally illustrates the strong rebound the price of oil per barrel will have in Q2 and beyond.
Here's how…
Where the Price of Oil per Barrel Will Go in 2015
Oil reserves will continue to decline as the rig count keeps falling. Baker Hughes Inc. (NYSE: BHI) reported that the count decreased by 31 for the week ending April 24. That brings the total to 703 – the lowest since Oct. 29, 2010.
"Probably the most encouraging sign for oil prices is that supply drawdown," said Joseph Tanious, principal and investment strategist at Bessemer Trust, to The Wall Street Journal. "But I'd want to see more confirmation of that – that it's happening in a sustained way – before we call a bottom."
Moors believes that's exactly what will happen.
Unconventional wells only produce for an average of 18 months, meaning most of them will die out by mid-summer. Combine that with increasing M&A activity and supply will have nowhere to go but down.
"I do believe oil prices will climb significantly by late August," Moors noted. "Assuming there are no geopolitical 'wild cards' that cause prices to spike higher, I believe oil will trade in the low $80s range by the end of 2015."
Even though prices are still reasonably low, there are plenty of profitable ways to invest in the oil sector.
Here are five of the best stocks to invest in as oil heads toward $80 a barrel by the end of the year…
Thoughts on the price of oil per barrel today? Talk to me on Twitter at @AlexMcGuire92
Related Articles: