Over the last two years we've talked many times about how to make money on high-tech stocks.
Nearly all of our talks have focused on finding winners that offer a lot of upside. As I've been telling you, the road to wealth is paved by tech.
But that doesn't mean you can blindly invest in just any tech stock. To ensure that you make money in the long run, you must avoid losses in the short run.
Today, I'm going to show you how to protect your portfolio's value by dodging stocks with "Loser" written all over them.
Specifically, I want to talk with you about a mega-cap tech firm that you need to steer clear from.
In fact, this firm violates a key rule of my five-part wealth-building strategy...
Big Black and Blue
I have read numerous stories about the turnaround underway at International Business Machines Corp. (NYSE: IBM) over the last several years.
There was another spate of positive stories last week after IBM reported first-quarter results that beat Wall Street's earnings estimates.
While I'm glad to see the company making progress, I still see a lot of problems ahead. After all, the first quarter also was the 12th consecutive one in which IBM suffered an annual sales decline.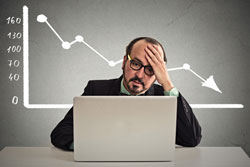 Even if IBM is able to lower overhead and boost earnings per share, that's still not a recipe for long-term success. See, there's an old saying in turnaround investing...
"You can't cut your way to growth."
I know this area well, having served as a strategic advisor to a turnaround investment banker. I've seen firsthand just how much money you can make on turnarounds - if you pick the right one.
IBM is not the right one.
Virginia Rometty has spent her entire three years as IBM's CEO trying to right a listing ship.
And she has made some good decisions, like getting IBM to focus more on Big Data. That's a new field that involves using massive computing power to comb through mountains of raw data to find key patterns, such as spotting online fraud among billions of e-commerce transactions or improving efficiencies at warehouses and factories.
Rometty also has steered IBM more toward cloud computing, a trend in which vendors host data and applications for their clients at remote server "farms" and deliver it all over the Web.
But over the past two years, these moves have not paid off for IBM's investors...
Even after IBM rallied on a first-quarter win, the stock is still down 11% during those past two years.
That decline is even worse than it appears. During that same period, the Standard & Poor's 500 Index gained 33.5%.
And the comparison with the S&P is being kind to IBM.
Just look at video-processing chipmaker Ambarella Inc. (Nasdaq: AMBA). Over the past two years, it has advanced 437%, or 13 times more than the broader market.
For those of you who prefer the safety and liquidity of big-cap firms, compare IBM to Apple Inc. (Nasdaq: AAPL). In the past two years, the iDevice king, has advanced 120%.
The Rule Breaker
IBM's subpar performance over the past few years stems from the fact that it lacks proper leadership.
Based on the track record I've seen to date, Rometty clearly is not the right CEO to return IBM to its glory days as a true innovator.
In no small measure, that's because she's spent her entire career at Big Blue.
In my experience with turnarounds, it's rare to see a "lifer" get a big firm like IBM back on track. That's because up-from-within executives grew up in a culture that is a big part of the problem in the first place.
Usually, a senior internal leader lacks the kind of outsider's perspective needed to turn a laggard back into a leader.
To be fair, there are some areas where the embattled leader is making progress.
The Wall Street Journal recently ran a long analysis about Rometty's tenure, which noted that she has spent about $8 billion over the past three years buying about 30 companies in her targeted growth markets.
On paper, it looks like she's making progress.
[epom key="ddec3ef33420ef7c9964a4695c349764" redirect="" sourceid="" imported="false"]
For instance, Big Data, cloud computing, cybersecurity, social networking, and mobile technologies made up 27% of IBM's sales last year, compared with 15% the year before Rometty became CEO.
But as the sales mix has definitely improved, the overall revenue outlook looks bleak. During Rometty's tenure, she has yet to deliver a single quarter in which overall sales improved from the year before.
And yes, she has gotten a vote of confidence from famed investor Warren Buffett. His Berkshire Hathaway Inc. (NYSE: BRK.B) is IBM's largest shareholder and just increased its holdings from 6.3% of shares outstanding to 7.8%.
But I believe Buffett's IBM involvement points out two key questions every tech investor should consider before taking a chance on this stock: What share price makes sense, and what is the appropriate time horizon?
Given IBM's weak sales picture and market-lagging performance, I would only consider buying at what I call a "stupid cheap price," one so low that you can afford to take a flyer.
I wouldn't pay more than $150 a share, a 14% discount from today's opening price... and then only if I could afford to hold it for many years, such as in a retirement account.
After all, IBM isn't a true growth stock. It's not even a good foundational play that you can count on to give your portfolio solid support.
And it's not really a great special situation play, either.
In other words, until the situation with IBM dramatically improves, I suggest you avoid this stock and focus on tech winners that offer a lot more potential upside.
I'll be telling you more about those kinds of tech stocks in the days ahead.
Synchronize Your Watches to Profit o'Clock! After doing some heavy research, we know the latest Apple Inc. (Nasdaq: AAPL) iDevice - the Apple Watch - is destined to be much more than just another gadget. It's not the watch itself that demonstrates why Apple may be the best tech company - and investment - on Earth. There's so much more behind this tech beast's long record of success...
About the Author
Michael A. Robinson is a 36-year Silicon Valley veteran and one of the top tech and biotech financial analysts working today. That's because, as a consultant, senior adviser, and board member for Silicon Valley venture capital firms, Michael enjoys privileged access to pioneering CEOs, scientists, and high-profile players. And he brings this entire world of Silicon Valley "insiders" right to you...
He was one of five people involved in early meetings for the $160 billion "cloud" computing phenomenon.
He was there as Lee Iacocca and Roger Smith, the CEOs of Chrysler and GM, led the robotics revolution that saved the U.S. automotive industry.
As cyber-security was becoming a focus of national security, Michael was with Dave DeWalt, the CEO of McAfee, right before Intel acquired his company for $7.8 billion.
This all means the entire world is constantly seeking Michael's insight.
In addition to being a regular guest and panelist on CNBC and Fox Business, he is also a Pulitzer Prize-nominated writer and reporter. His first book Overdrawn: The Bailout of American Savings warned people about the coming financial collapse - years before the word "bailout" became a household word.
Silicon Valley defense publications vie for his analysis. He's worked for Defense Media Network and Signal Magazine, as well as The New York Times, American Enterprise, and The Wall Street Journal.
And even with decades of experience, Michael believes there has never been a moment in time quite like this.
Right now, medical breakthroughs that once took years to develop are moving at a record speed. And that means we are going to see highly lucrative biotech investment opportunities come in fast and furious.
To help you navigate the historic opportunity in biotech, Michael launched the Bio-Tech Profit Alliance.
His other publications include: Strategic Tech Investor, The Nova-X Report, Bio-Technology Profit Alliance and Nexus-9 Network.