Over the last two years we've talked many times about how to make money on high-tech stocks.
Nearly all of our talks have focused on finding winners that offer a lot of upside. As I've been telling you, the road to wealth is paved by tech.
But that doesn't mean you can blindly invest in just any tech stock. To ensure that you make money in the long run, you must avoid losses in the short run.
Today, I'm going to show you how to protect your portfolio's value by dodging stocks with "Loser" written all over them.
Specifically, I want to talk with you about a mega-cap tech firm that you need to steer clear from.
In fact, this firm violates a key rule of my five-part wealth-building strategy…
Big Black and Blue
I have read numerous stories about the turnaround underway at International Business Machines Corp. (NYSE: IBM) over the last several years.
There was another spate of positive stories last week after IBM reported first-quarter results that beat Wall Street's earnings estimates.
While I'm glad to see the company making progress, I still see a lot of problems ahead. After all, the first quarter also was the 12th consecutive one in which IBM suffered an annual sales decline.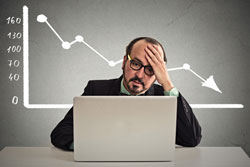 Even if IBM is able to lower overhead and boost earnings per share, that's still not a recipe for long-term success. See, there's an old saying in turnaround investing…
"You can't cut your way to growth."
I know this area well, having served as a strategic advisor to a turnaround investment banker. I've seen firsthand just how much money you can make on turnarounds – if you pick the right one.
IBM is not the right one.
Virginia Rometty has spent her entire three years as IBM's CEO trying to right a listing ship.
And she has made some good decisions, like getting IBM to focus more on Big Data. That's a new field that involves using massive computing power to comb through mountains of raw data to find key patterns, such as spotting online fraud among billions of e-commerce transactions or improving efficiencies at warehouses and factories.
Rometty also has steered IBM more toward cloud computing, a trend in which vendors host data and applications for their clients at remote server "farms" and deliver it all over the Web.
But over the past two years, these moves have not paid off for IBM's investors…
Join the conversation. Click here to jump to comments…
About the Author
Michael A. Robinson is one of the top financial analysts working today. His book "Overdrawn: The Bailout of American Savings" was a prescient look at the anatomy of the nation's S&L crisis, long before the word "bailout" became part of our daily lexicon. He's a Pulitzer Prize-nominated writer and reporter, lauded by the Columbia Journalism Review for his aggressive style. His 30-year track record as a leading tech analyst has garnered him rave reviews, too. Today he is the editor of the monthly tech investing newsletter Nova-X Report as well as Radical Technology Profits, where he covers truly radical technologies – ones that have the power to sweep across the globe and change the very fabric of our lives – and profit opportunities they give rise to. He also explores "what's next" in the tech investing world at Strategic Tech Investor.