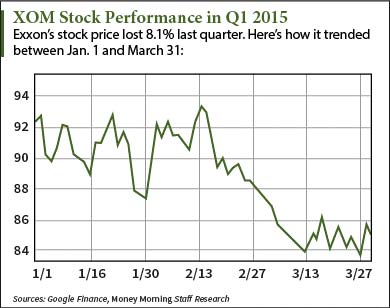 Exxon Mobil Corp. (NYSE: XOM) released its Q1 report yesterday (Thursday). The oil giant saw a 46% earnings loss as low oil prices continue to eat into energy companies' profits.
XOM stock also took a beating last quarter. It tumbled 8.1% between Jan. 1 and March 31. Shares have fallen 13.9% since oil prices started crashing last June.
But the sector is poised to rebound this year as WTI and Brent prices move higher. Money Morning Global Energy Strategist Dr. Kent Moors expects oil to trade in the $80 range by the end of 2015.
Here's everything you need to know about Exxon's first-quarter report – and whether or not you should invest in XOM stock today…
How Exxon's Earnings Report Affected XOM Stock
Despite an earnings drop from the year-ago quarter, Exxon's Q1 numbers smashed expectations.
The company posted $4.9 billion in earnings. That marks a 46.2% drop from the $9.1 billion earned in Q1 2014. Exxon reported adjusted earnings per share (EPS) of $1.17 – a 44% decrease from $2.10 a year ago.
But both amounts still surpassed analyst projections. According to Bloomberg, Exxon's earnings beat Wall Street's $3.64 billion forecast by 34.6%. The EPS was 42.7% higher than analysts' projected $0.82.
"ExxonMobil's balanced portfolio delivered solid financial results in the quarter," said CEO Rex Tillerson in a press release. "Regardless of current market conditions, we remain focused on business fundamentals and competitive advantages that create long-term shareholder value."
The upstream sector was unsurprisingly weak. It made $2.9 billion, which is a 63.8% decrease from the year-ago quarter's $8 billion. Exploration and production (E&P) operations alone generated $52 million in losses.
On the other hand, Exxon's downstream saw huge gains, which has been a common theme this earnings season. Profits from the firm's global collection of refineries more than doubled to $1.67 billion. Downstream facilities outside the United States reported an almost sixfold profit increase.
"The international downstream clearly delivered the goods in what was almost perfect conditions of low oil prices and strong refining margins," noted Ed Westlake, analyst at Credit Suisse Group AG (NYSE ADR: CS), in a note yesterday.
XOM stock immediately reacted to the numbers. Shares were up 0.8% by the time markets opened yesterday morning – but they fell 0.5% by market close.
With all these mixed results, the big question is…
Should I Buy XOM Stock?