Euro-dollar parity is still coming.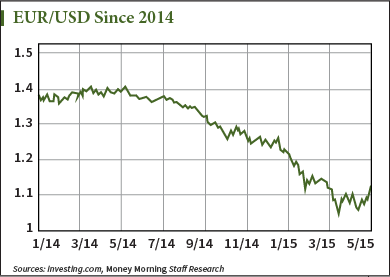 Don't be fooled by this sudden rebound.
The accompanying euro price chart shows that the euro has had a long, almost uninterrupted descent. After hitting closing highs of $1.3934 on March 18, 2014, it fell all the way to $1.0484 on March 15, 2015. That's a 25% freefall for the currency against the dollar in just about a year.
It was then that all the predictions for euro-dollar parity began to ramp up. We've said before the euro is going to achieve euro-dollar parity sometime in mid-to-late 2016. But we also acknowledged that it's going to hit some snags on the way down.
The fundamentals support a fast dive to euro-dollar parity. But the technical traders simply won't allow it to fall to those levels so quickly.
Since bottoming out at 15-year lows last month – at $1.0484 – the euro closed at $1.1224 yesterday (Thursday). That's a 7.1% gain in little more than a month.
This isn't because there was any reason to believe in the strength of the euro. For the most part, hitting $1.0484 was a technical extreme. All it took was a weak earnings season fueled by a stronger dollar to give traders a reason to start buying euros again.
Make no mistake about it. This bump is temporary. The euro is not suddenly going to take off. No fundamental indicator in Europe supports a stronger euro, even if the technical traders are wary of selling down to euro-dollar parity so quickly.
Here's why euro-dollar parity will still happen, even if it does snap back a little on the way down…
Why Euro-Dollar Parity Is Not Far Off
The Eurozone has two key headwinds working against the euro's strength that will ultimately fuel this long-term downtrend to euro-dollar parity.
The first is European Central Bank quantitative easing.
The 60 billion euro ($67.2 billion) a month central bank purchases of Eurozone government sovereign bonds and other assorted assets is aimed at kicking the slow-growing European economy into shape.
But it's much less about helping the broader currency bloc than it is a giveaway to the banks.