The following share-price jumps underscore just how much money there is to make in the merger and acquisition (M&A) market – if you know how to choose the right buyout targets, that is.
For example, shares of Pace Plc. (OTCMKTS: PCMXF) soared more than 33% on April 24.
The reason: The maker of set-top boxes and broadband networking gear agreed to be acquired by industry leader Arris Group Inc. (Nasdaq: ARRS) in a deal worth $2.1 billion.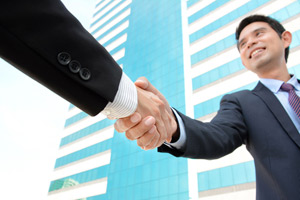 And on March 30, insurer UnitedHealth Group Inc. (NYSE: UNH) said it was buying Catamaran Corp. (Nasdaq: CTRX), sending shares of the Illinois-based pharmaceutical benefits manager up nearly 25% in one day.
I expect to see a lot more M&As through the end of the year. Indeed, a recent report shows that first-quarter global M&A activity reached its highest level since 2007.
With that in mind, today I want to introduce you to three companies that I believe are good Tech Takeover Targets. And I want to show you how to invest in them before they get picked up and their share prices soar.
After all, there's no money in the M&A market if you wait too long to make your move…
Perfecting the M&A Market
When it comes to M&As, 2015 is off to a roaring start. Thomson Reuters recently reported the total value of global M&A hit $811.8 billion.
No, that's not an annual figure – that's just the value of all deals announced in the first three months of this year.
Thomson Reuters says U.S. firms account for the largest share of the global M&A market. All told, American companies announced $399.1 billion in M&As in 2015's first quarter, or 49% of the world's activity.
That's in no small measure because of the health of the tech industry. Overall, tech firms are reporting strong growth in sales, cash flow, and profit margins.
In fact, the strong first quarter follows what the analysts at PwC say was a "banner year" for the U.S. technology M&A market. According to PwC, the volume of U.S. tech deals increased 36%, and the volume of deals jumped 62% – to 235 M&As worth $145.5 billion.
While you can spend hours combing debt-to-equity, liquidity, and market cap numbers, finding good Tech Takeover Targets remains more art than science.
However, as someone who's spent well over 35 years in and around Silicon Valley, I've gotten pretty good at that art. It all comes down to catalysts – acquirers are looking for good fits and solid reasons to act now.
And after running those numbers and then taking a good, hard look beyond them, I think I've identified some pretty good catalysts – and, therefore, some companies that I believe will get bought out within the next year or two.
Let's examine a few of these Tech Takeover Targets – all three are stocks you should take a look at…
Join the conversation. Click here to jump to comments…
About the Author
Michael A. Robinson is one of the top financial analysts working today. His book "Overdrawn: The Bailout of American Savings" was a prescient look at the anatomy of the nation's S&L crisis, long before the word "bailout" became part of our daily lexicon. He's a Pulitzer Prize-nominated writer and reporter, lauded by the Columbia Journalism Review for his aggressive style. His 30-year track record as a leading tech analyst has garnered him rave reviews, too. Today he is the editor of the monthly tech investing newsletter Nova-X Report as well as Radical Technology Profits, where he covers truly radical technologies – ones that have the power to sweep across the globe and change the very fabric of our lives – and profit opportunities they give rise to. He also explores "what's next" in the tech investing world at Strategic Tech Investor.