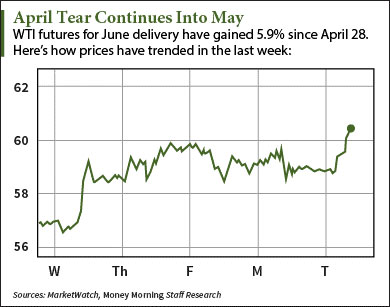 How much does a barrel of oil cost, 5/5/15: Oil prices today soared in morning trading after protests in Libya cut off an oil export hub.
At 9:15 a.m. today (Tuesday), WTI oil was up 2.46% and trading at $60.38 a barrel. WTI has gained 5.9% in the last week and 2.5% since yesterday alone.
Brent oil moved 2.03% higher to $67.80 a barrel. The London benchmark has seen a slower recovery than its U.S. counterpart, having leaped 4.9% since last Tuesday.
Futures started moving today after Zueitina – an oil port in northeastern Libya – was shut down by protestors seeking employment at the facility. The port exports up to 70,000 barrels a day.
Libyan oil output has been a leading cause of the price collapse in the last year. The OPEC-chartered country increased production from 200,000 barrels per day in June 2014 to 900,000 at the end of September. Libya's reserves have been building up due to weaker demand in European markets, where the country sells most of its product.
But exports have declined in the last few months amid battle for control over the government.
"The market continues to live with these supply disruptions out of Libya that we see from month to month," said Andy Lipow, president of research consultancy Lipow Oil Associates, to The Wall Street Journal. "The port closure is bullish for a market that remains oversupplied."
May's oil price rise follows oil futures' largest monthly gain in nearly six years. A lower oil rig count pushed April oil prices higher. According to Baker Hughes Inc. (NYSE: BHI), 27 rigs ceased operation last week. The total number of active U.S. rigs is 905 – roughly 51.2% less than a year ago.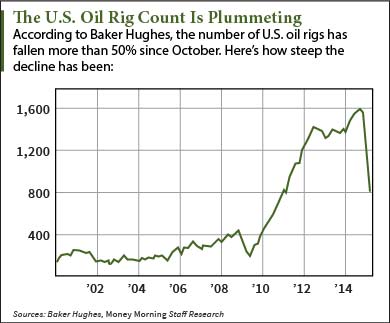 The cost of a barrel of oil will end 2015 higher as more rigs lose production capacity and demand moves higher. That's why Money Morning Global Energy Strategist Dr. Kent Moors sees prices hitting the mid-$70 range by the end of 2015.
But what's most interesting about the oil price story in 2015 is what's happening in other areas of energy – an unusual development that hasn't happened during other oil price collapses.
And it's a big signal for investors looking for energy profits…
What the Oil Cost Today Is Doing to the Energy Sector
According to Moors, oil always experiences increased demand during low price periods. That's because markets always use more of a cheaper commodity.
During past low price periods, other forms of energy like wind and solar power tumbled as well.
But that's not happening this time around.
"This increase in oil demand has historically caused other forms of energy to stagnate," Moors explained. "But that just hasn't been the case."
"In fact, despite low oil prices, alternative energy has begun a long steady rise."
The dislocation shows that low oil prices don't translate into lower interest in other sources of energy. According to Moors, that dislocation offers an array of attractive investment opportunities in renewable energy around the world…
Have other questions than "How much does a barrel of oil cost?" Talk to us on Twitter at @AlexMcGuire92 and @moneymorning.
Related Articles: