Last week's earnings for Big Oil stocks were a mixed bag.
Oil companies like BP Plc. (NYSE ADR: BP), Exxon Mobil Corp. (NYSE: XOM), Royal Dutch Shell Plc. (NYSE ADR: RDS.A), Total SA (NYSE ADR: TOT), and Chevron Corp. (NYSE: CVX) all followed a similar pattern. Each posted lower earnings and higher downstream profits that beat Wall Street expectations.
Downstream operations include everything that takes place after the production phase. These can range from refining and distribution to sales of the final product.
The refining segments of these oil and gas companies have picked up the slack lately. Refining units drag down earnings during high oil price periods. That's because high prices squeeze margins on refined products like gasoline, whose prices are lowered by excess supply.
Now, downstream operations have improved as they enjoy strong demand and low oil prices.
"For years refining has been the ugly duckling in big oil companies' portfolios," The Wall Street Journal reported, "but the sharp drop in crude prices has boosted the sector's profitability."
Here's how the Big Oil companies performed last quarter, and what to expect going forward…
How Q1 Earnings Affected the Top Big Oil Stocks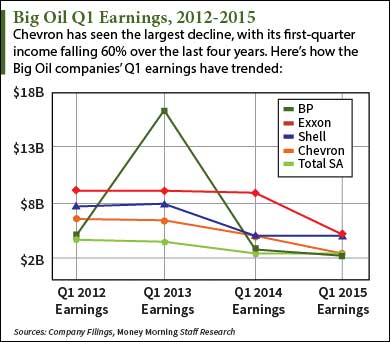 BP was the first of the Big Oil stocks to release Q1 numbers.
It posted an overall profit of $2.1 billion, marking a 40% decline from the $3.5 billion reported last year.
The firm's downstream sector, including refining and chemicals production, raked in $2.1 billion. That's more than double the company's downstream profit from Q1 2014.
The company acknowledged in its report how increased downstream activity effectively counters lower prices.
"We are resetting and rebalancing BP to meet the challenges of a possible period of sustained lower prices," BP Chief Executive Robert Dudley said in a statement. "Our results today reflect both this weaker environment and the actions we are taking in response."
After releasing earnings on April 28, BP shares shot up about 1%. The stock has gained 0.4% since then. Yahoo! Finance's one-year target estimate for the BP stock price is $42.80. That's 1% less than last Friday's closing price of $43.23.
Total's downstream operations saw even larger growth – take a look…