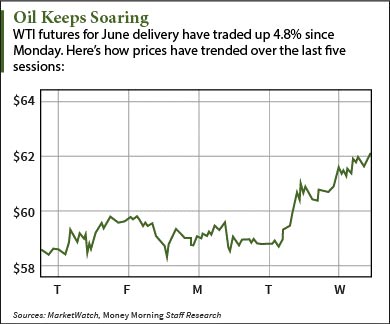 How much is a barrel of oil, 5/6/15: Oil futures maintain their month-long winning streak today amidst geopolitical concerns in Saudi Arabia, Yemen, and Libya.
At 10:05 a.m., WTI oil prices were up 2.68% and trading at $62.01 a barrel. Today marks the first time WTI oil has reached above $62 a barrel since early December.
Brent oil prices moved slightly less. They gained 2.5% to $69.21 a barrel. Prices for the London benchmark have increased 13.1% this year.
The rally to new highs for a barrel of oil's price comes during heightened tensions between Saudi Arabia and neighboring Yemen. Last night, planes from a Saudi-led coalition struck Yemeni towns following mortar attacks from Iran-allied Houthi rebels.
Yemen sits on the Bab el-Mandeb strait. According to the Energy Information Administration (EIA), 3.8 million barrels of oil and "refined petroleum products" pass through the Bab el-Mandeb each day. It's the world's fourth-busiest chokepoint.
Tensions have also been high in Libya. Zueitina – an oil port in the northeastern part of the country – has been shut down by protestors seeking employment at the facility. Zueitina exports up to 70,000 barrels a day.
The third piece of bullish news pushing a barrel of oil's price higher is the EIA's weekly supply report. It stated that crude inventories fell for the first time in more than four months. Supplies fell 3.9 million barrels last week, blindsiding analysts' forecast of a one-million-barrel increase.