Rumors are beginning to pick up steam. Investors are wondering, "Will Microsoft buy Salesforce?"
Last week, reports surfaced that some unnamed suitor was looking to buy the customer relationship management company Salesforce.com Inc. (NYSE: CRM). CRM stock jumped 11.6% on the day last Wednesday. The rumors quieted and CRM stock retreated a bit - 4% by Monday.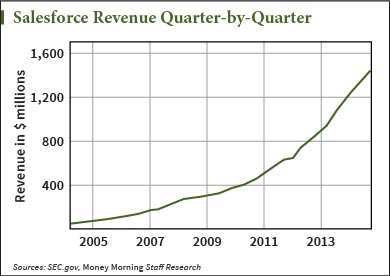 Then yesterday (Tuesday), the speculation once again rebounded. Another report indicated not just that there were suitors, but that the top contender to buy Salesforce was none other than tech giant Microsoft Corp. (Nasdaq: MSFT). CRM stock experienced so much volatility that trading was halted midday. And CRM stock, as of just before noon, was up 4.5% since the announcement.
There has obviously been a lot of conjecture to this point, and for the most part, observers are missing the bigger picture.
"Will Microsoft buy Salesforce?" is too simple a question to be asking right now. And, it's a lot more complicated than simply determining whether this would be the right move for Microsoft or not.
Here's what you need to know about any deal involving Salesforce...
Will Microsoft Buy Salesforce? Here's What to Consider
It's not a question of whether it's a good move to buy Salesforce. It is.
Right now, cloud is one of the most promising growth initiatives for Microsoft and a purchase of Salesforce would help plug a lot of holes. It would give Microsoft a clear advantage in the cloud battle that's taking place right now.
You see, cloud is a rather vague term, and it can mean different things to different people. But at its core, it's pretty simple: cloud is the delivering of services over the web.
It's become so important in the tech world - particularly in enterprise tech - because the way of handling business solutions and information technology is undergoing a massive overhaul.
There was a time when a company like International Business Machines Corp. (NYSE: IBM) was on top because its highly sought-after mainframes were key to data center architecture. But the wave of the IT future is no longer bulky hardware and cumbersome, expensive on-site data centers.
Companies want their business applications to be handled remotely, in a cloud data center, hosted by a cloud data provider. Companies like IBM, Amazon.com Inc. (Nasdaq: AMZN), and Google Inc. (Nasdaq: GOOG, GOOGL) have been building cloud data centers across the globe to handle this on-demand, for-rent, virtualized data center demand that's really moving the needle in IT trends.
Microsoft is also a key player in this. Their virtual machines are delivered through the Microsoft Azure platform.
The battle in cloud is not as much about who can provide the cloud infrastructure - the Infrastructure as a Service (IaaS) - but who can build out their cloud offerings to more than just the virtual machines.
In addition to IaaS, there is also Software as a Service (SaaS) - where software solutions are delivered over the web - and Platform as a Service (PaaS) - where engineers are given a platform to build apps on a cloud interface.
Amazon is the leader in IaaS, with a 36% market share, according to Gartner. And there is a margin-crushing price war going on in that segment of the cloud marketplace. That means the real riches in cloud are to be found in SaaS and PaaS.
And this is where Salesforce comes into play...