The International Business Machines Corp. (NYSE: IBM) stock price today is hardly budging after it fell 1.8% yesterday (Wednesday).
This is quite unsettling. Turns out many don't realize that yesterday gave us one of the most exciting developments to come out of Big Blue in a long time...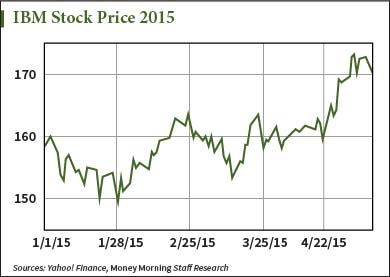 That's when IBM announced a new partnership with Facebook Inc. (Nasdaq: FB). Facebook will leverage IBM's analytics and retail solutions portfolio to refine its targeted ads.
IBM has no shortage of announcements it makes tied to vague developments in the "strategic initiatives" of cloud, analytics, mobile, security, and social. And typically, none are very exciting. It's generally some statement about how IBM is going to invest some billions of dollars into one of these areas with little added details.
It's a PR gambit more than anything else. So generally, Wall Street is right to not send IBM stock soaring on a press release.
But what's worrying is that if ever there was a time for the markets to get excited - even with a slight jump - it would be on this Facebook partnership. Instead, the IBM stock price got a huge lift last month that was entirely unwarranted.
In mid-April, IBM stock was trading at $160.67. It soared 8.3% - as high as $173.97 - going into the end of the month.
The IBM stock price today is trading around $170.
What this illustrates is that investors aren't afraid to buy IBM stock despite its prolonged, two-year descent. But it also illustrates how much many of them misunderstand IBM.
Here's what the IBM stock price today says about the market's misreading of the company...
IBM Stock Price Today Retreating from April Cloud Frenzy
First, let's look at why IBM stock was rising before traders backed down this week...
Last month was big for cloud computing. Microsoft Corp. (Nasdaq: MSFT) and Amazon.com Inc. (Nasdaq: AMZN) most notably broke out concrete cloud revenue numbers in their earnings releases.
It showed that cloud was no longer a business segment big tech names could claim they see meteoric growth in without coming clean on the numbers.
It sparked rumors that Salesforce.com Inc. (NYSE: CRM), one of the smaller yet most successful cloud plays out there, was going to put itself up for sale.
Wall Street couldn't contain its excitement over cloud. On the day both Amazon and Microsoft reported earnings and revealed cloud revenue for the first time, MSFT stock soared 10.5% and AMZN stock was up 14.1%.
IBM was up almost 3% on the day as well.