The International Business Machines Corp. (NYSE: IBM) stock price today is hardly budging after it fell 1.8% yesterday (Wednesday).
This is quite unsettling. Turns out many don't realize that yesterday gave us one of the most exciting developments to come out of Big Blue in a long time...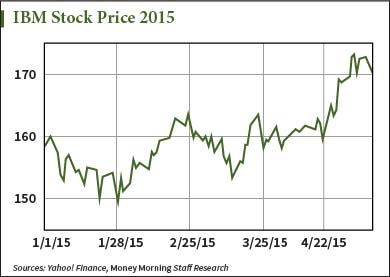 That's when IBM announced a new partnership with Facebook Inc. (Nasdaq: FB). Facebook will leverage IBM's analytics and retail solutions portfolio to refine its targeted ads.
IBM has no shortage of announcements it makes tied to vague developments in the "strategic initiatives" of cloud, analytics, mobile, security, and social. And typically, none are very exciting. It's generally some statement about how IBM is going to invest some billions of dollars into one of these areas with little added details.
It's a PR gambit more than anything else. So generally, Wall Street is right to not send IBM stock soaring on a press release.
But what's worrying is that if ever there was a time for the markets to get excited - even with a slight jump - it would be on this Facebook partnership. Instead, the IBM stock price got a huge lift last month that was entirely unwarranted.
In mid-April, IBM stock was trading at $160.67. It soared 8.3% - as high as $173.97 - going into the end of the month.
The IBM stock price today is trading around $170.
What this illustrates is that investors aren't afraid to buy IBM stock despite its prolonged, two-year descent. But it also illustrates how much many of them misunderstand IBM.
Here's what the IBM stock price today says about the market's misreading of the company...
IBM Stock Price Today Retreating from April Cloud Frenzy
First, let's look at why IBM stock was rising before traders backed down this week...
Last month was big for cloud computing. Microsoft Corp. (Nasdaq: MSFT) and Amazon.com Inc. (Nasdaq: AMZN) most notably broke out concrete cloud revenue numbers in their earnings releases.
It showed that cloud was no longer a business segment big tech names could claim they see meteoric growth in without coming clean on the numbers.
It sparked rumors that Salesforce.com Inc. (NYSE: CRM), one of the smaller yet most successful cloud plays out there, was going to put itself up for sale.
Wall Street couldn't contain its excitement over cloud. On the day both Amazon and Microsoft reported earnings and revealed cloud revenue for the first time, MSFT stock soared 10.5% and AMZN stock was up 14.1%.
IBM was up almost 3% on the day as well.
Here's the problem, though...
In IBM's earnings release just three days before, the company reported its 12th consecutive quarter of declining sales. The IBM stock price fell 1.1% on the day.
This likely means investors merely saw the cloud developments from Microsoft and Amazon and took that as their cue to buy anything cloud. Never mind that IBM had been one of the first of the tech giants to break out its cloud numbers last quarter to none of this fanfare.
But the truth is, IBM is going to face some hardship competing in the cloud.
And where it does show real promise, Wall Street is hardly taking note...
Why the IBM Stock Price Today Is the Height of Cluelessness
Even with the cloud numbers on full display, it's too early to know if IBM will make a killing on that front. And there's more evidence to suggest it won't than that it will.
We don't know how much of the reported $7.7 billion cloud business is built purely on cloud offerings and to what extent it's spread across other segments.
[epom key="ddec3ef33420ef7c9964a4695c349764" redirect="" sourceid="" imported="false"]
There's a lot of overlap and $7.7 billion isn't very impressive if it's simply a matter of IBM's financial wizards behind the scenes identifying sales of existing solutions that can be tangentially pegged as cloud revenue.
For example, the new IBM mainframe, the z13, can manage up to 8,000 virtual machines. These sales would no doubt be tallied under the hardware segment, but the machine does handle cloud workloads. How is IBM determining what of the z13 sales can be also counted under cloud revenue?
IBM seems to be in the cloud because it has to be. It can't survive as an IT solutions company if it's not branching out of its traditional legacy systems architecture and providing a cloud platform for its Fortune 100 clients to migrate to if and when they abandon the mainframe. Cloud for IBM is about survival, not growth.
The real money in cloud is going to be made not in cloud infrastructure, but in the delivering of business applications and software through the cloud. Other, more nimble companies like Salesforce seem to be pioneering the effort.
For IBM to turn around its fortunes - and its stock price - it needs to innovate. And it has a chance - just not in the cloud.
And that's why the IBM stock price today is getting no love from the markets. It's clear they don't know where IBM does have a chance of making this transformation.
What Should Have Moved the IBM Stock Price Today
IBM's Facebook partnership is not its first with a social media company. It also inked a deal with Twitter Inc. (NYSE: TWTR) near the end of last year.
To build the best analytics solutions and emerge a Big Data leader, IBM will need to cozy up to these social media giants. That gives IBM access to an even bigger wealth of user data to be integrated into their analytics' engines.
IBM's success is more tied to how it monetizes Big Data than what it does in the cloud.
And while cloud gets top billing, IBM's work in retail solutions and analytics should be what excites Wall Street. The company shed its point-of-sale terminals business in 2012 in a sale to Toshiba.
Since then, the company has been creating innovative products on this front that aren't merely serving as a way to retain their high-value clients, but net new ones.
For example, IBM offers retail clients a product called IBM Predictive Customer Intelligence. This software product draws data from several sources - customer sentiment from social networks, logged customer service interactions, web click stream data, and data on-hand - and runs it through a predictive analytics engine. This will help retail stores gather insight on customers and build their business around this Big Data-driven model.
Facebook and Twitter partnerships only make solutions like this all the more attractive.
The Bottom Line: IBM has its troubles and that's what keeps us from recommending you buy this stock. But it's not just that IBM is struggling. It's also that Wall Street has yet to know exactly what IBM's strengths are. And until then, we'll continue to see volatility like we're seeing with the IBM stock price today. Wait until IBM discovers its identity, stops overselling its cloud potential, and the market takes heed to where IBM has real promise. But for now, don't be so quick to buy IBM stock.
Jim Bach is an Associate Editor at Money Morning. You can follow him on Twitter @JimBach22.
More News from Atop the Cloud... One of the most successful companies in cloud computing is rumored to be up for sale. And you won't believe who may be willing to shell out the $65 billion to buy it...