The Tesla stock price today opened down 4% after the company reported an earnings-per-share (EPS) loss of $0.36 and revenue of $1.1 billion last night. Both of those numbers comfortably beat Wall Street expectations.
Analysts had predicted an EPS loss of $0.50 and revenue of $1.02 billion.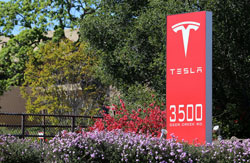 Revenue in the quarter was an increase of 55% from last year. Tesla has a total company gross margin of 28.2% on a non-GAAP basis.
Company officials announced that 10,045 Model S sedans were delivered in Q1. Next quarter, the company plans to deliver between 10,000 and 11,000 sedans.
Production in the quarter reached 11,160 vehicles. Tesla expects to boost production by 12% in Q2, hitting a total of 12,500 vehicles. The company reiterated its 2015 goal of delivering 55,000 vehicles.
Tesla unveiled two new vehicles in Q1, the all-wheel drive Model S 85D and the 70D. The company maintained the Model X SUV will be released sometime in 2015.
While those bullish numbers are important, the biggest news from the report was an update on Tesla Energy...
What Tesla Energy Means for TSLA Stock
Last week, Chief Executive Elon Musk unveiled the new "Tesla Energy" division of the company, which includes home batteries named "Powerwalls."
A 7-kilowatt-hour (kwh), wall-mounted version of the Powerwall will cost $3,000. A larger 10-kwh version will be sold for $3,500. This is far cheaper than traditional 7-kwh solar panel and battery packs, which can cost more than $10,000.
The batteries connect to the local power grid and power up overnight. Power companies charge less for electricity during the night. This allows consumers to use their Tesla batteries during the day and save money.
Musk said yesterday that Tesla has already received 38,000 preorders for the new batteries. He described the response as "off the hook."
"The total addressable market size for Tesla Energy products is enormous and much easier to scale globally than vehicle sales," the statement said. We are pursuing product certification in multiple markets simultaneously and plan to ramp deliveries in the U.S., EU, and Australia in Q4."
"When combined with low-cost renewable energy, Tesla Energy batteries provide an achievable pathway to a 100% zero carbon energy system," it continued.
The direction Musk is taking Tesla is the main reason why Money Morning experts are so bullish on the Tesla stock price today.
"I believe Tesla is one of the best long-term investments an investor can make at the moment," Money Morning's Chief Investment Strategist Keith Fitz-Gerald said in March.
Tesla stock is one of the most volatile stocks on the market, so you shouldn't buy in if you have a low risk tolerance. But for investors who can buy and hold the stock for several years, the long-term potential is undeniable. Here's why...
Tesla Stock Price Today Dips, but Ignore the Short-Term Noise