Oil has been on a long-overdue tear lately. Prices have gained 17.5% in the last month. On Wednesday, they reached $62 a barrel for the first time since December.
The rally reinforces our crude oil price predictions that WTI and Brent will rebound throughout 2015.
While the long-term oil price trend is up, there will be bumps along the way.
"Oil's trajectory is shaping up to be in a 'ratcheting' pattern," explained Money Morning Global Energy Strategist Dr. Kent Moors. "This is the term I have used for years when referring to a pricing adjustment that is moving up overall but with intermittent declines and bouts with volatility."
Take a look at why our crude oil price projections see oil hitting $80 in 2015 – plus find out the best way to profit from this rebound…
What's Fueling the Crude Oil Price Predictions for 2015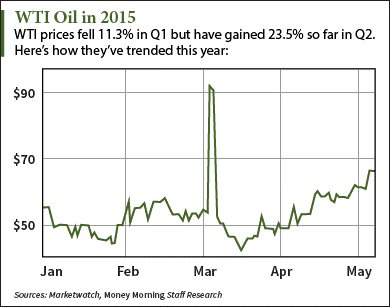 Oil prices are recovering from a bad first quarter. Oil supply skyrocketed to levels not seen in 80 years. That dropped WTI about 15% during the first three months of the year while Brent fell about 6%. Prices were their lowest since the financial crisis.
But oil futures have had a great second quarter so far. WTI futures climbed 23.5% since March 31. They soared 14.3% in April alone, marking the largest one-month gain since June 2014.
The good news is that prices will keep moving higher. A number of factors, including lower supply and increased M&A activity, will create a new energy landscape.
"A confluence of production restraints by operators, drawdowns from storage, and increasing competition among sources will emerge as staples of the new supply-demand balance," Moors noted.
For months, the Energy Information Administration (EIA) and International Energy Agency (IEA) released supply reports that hit crude oil prices. Production skyrocketed past analyst expectations week after week, and the price of oil kept falling.
But when the talking heads on TV analyzed these reports, they missed one important fact about U.S. oil production …