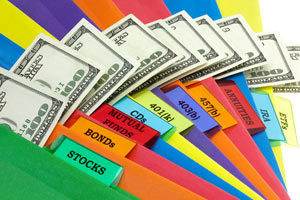 Exchange-traded funds (ETFs) and mutual funds are alike in that both offer diversification and professional management. Otherwise, the two investment vehicles differ greatly.
Here's a closer look at the difference between ETFs and mutual funds so you can identify the best investment for your particular goals.
The Difference Between ETFs and Mutual Funds: 10 Criteria
The first step in choosing between ETFs and mutual funds is to identify your own personal investment horizons and objectives. Specify your savings and investment goals, and determine whether you're an active trader or retirement investor. Then you can make your choices based on the following 10 differences between ETFs and mutual funds...
ETF vs. Mutual Fund: Buying and Selling - ETFs can only be purchased and sold through a brokerage account. Mutual funds can be bought and sold directly from a mutual fund company, such as Vanguard or Pimco.
ETF vs. Mutual Fund: Trading and Pricing - ETFs can be traded on major stock exchanges anytime during regular trading sessions. Mutual fund buys and sells are executed and priced once a day after the markets close.
ETF vs. Mutual Fund: Transaction Costs - Investors typically pay a commission when buying and selling ETFs. Commissions vary depending on the trade size and brokerage firm. A number of investment houses, however, offer a cache of commission-free ETFs. Charles Schwab has more than 200. Ameritrade has more than 100. Fidelity offers over 70. It should be noted that ETFs falling into the commission-free category are limited in sectors covered. They can also sport additional fees, and their expense ratios differ. The typical ETF expense ratio is a modest 0.44%, according to Morningstar.
Mutual funds, meanwhile, are front- or back-end loaded or are no-loads. Investors pay a fee when buying a front-end-loaded fund. With a back-end fund, investors pay a deferred sales charge when selling. This charge declines over a certain time frame. No-load funds don't carry a sales charge. But like all mutual funds, they have ongoing annual fees that can chip away at returns. Expense ratios range from as low as 0.2% (typically for index funds) to as much as 2%. The average equity mutual fund charges around 1.3% to 1.5%. Specialty or international funds, which require more expertise from management, generally carry higher fees.