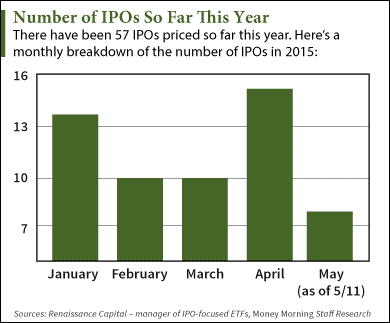 There are nine deals on this week's upcoming IPO calendar. They're expected to raise a combined $1.4 billion.
Last week saw the largest IPO of 2015. Tallgrass Energy GP LP (NYSE: TEGP) took the year's top spot by raising $1.2 billion, surpassing Columbia Pipeline Partners LP's (NYSE: CPPL) $1.1 billion.
Bojangles' Inc. (Nasdaq: BOJA) continued the restaurant IPO hot streak last week, pricing at the high end of its range and gaining 25% in its debut. That was the first restaurant IPO since Shake Shack Inc. (NYSE: SHAK), which gained 119% in its debut on Jan. 29.
While TEGP was the largest by deal size, this week will see the largest IPO by market cap so far this year…
EQT GP Holdings LP's (NYSE: EQGP) $6 billion valuation makes it the year's largest company to go public. The Pittsburgh-based master limited partnership (MLP) owns interests in EQT Midstream Partners LP (NYSE: EQM). EQGP was formed last year and posted $523 million in sales from March 2014 to March 2015.
According to Renaissance Capital, a manager of IPO-focused ETFs, the MLP is set for a $450 million deal by selling 20 million shares at a $21 to $24 price range. EQGP stock will begin trading on Tuesday, May 12.
Here are the eight other deals this week on the upcoming IPO calendar…
This Week's Upcoming IPO Calendar
Fortress Transportation and Infrastructure Investors LLC (NYSE: FTAI) is a limited liability company (LLC) formed by Fortress Investment Group LLC (NYSE: FIG). FTAI owns an array of high-yielding transportation assets in aviation, shipping, and offshore energy. These include airplanes, jet engines, shipping containers, railway lines, and intermodal equipment. The New York-based company raked in $58 million in sales last year. It plans to raise $400 million by offering 20 million shares at a price range of $19 to $21. FTAI is valued at $1.5 billion and will hit the market on Thursday, May 14.
Money Morning Members: Keep reading for the rest of this week's upcoming IPO calendar, including the year's largest biotech. For those new to Money Morning, sign up to keep reading – it's completely free…