Biotech investing can be tricky. The industry is complicated, and the stocks are volatile.
But the profit payoff can be life-changing.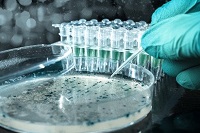 That's why we've created the "Biotech Investing for Beginners Guide" with Money Morning's Biotech Investing Specialist Ernie Tremblay.
Even if you've owned stocks for years, biotech investing can be daunting. Many of the metrics we use to evaluate other stocks - like P/E ratio, profit margin, earnings per share - don't always apply to biotech stocks.
"The reason is pretty straightforward: many low- and mid-cap biotechs haven't yet made a profit, and probably won't for years to come," Tremblay said. "Unlike big pharmaceutical companies, these smaller startups focus their time, money, and effort on research and development, rather than marketing new products."
It can take years for drugs to be approved, meaning these companies go years without turning a profit.
Tremblay recommends beginner investors first analyze a company's drug pipeline and find out what pressing medical needs the firm targets.
But that's only the first step a biotech investor needs to take. Here's a step-by-step beginner's guide to investing in biotech stocks...
Biotech Investing for Beginners, Step 1: Calculate the Burn Rate
A company's burn rate is how fast it spends money versus brings money in. Investors should look for companies with enough cash on hand to operate for the next 13 to 18 months.
All the numbers you need to calculate a company's burn rate can be found on Yahoo Finance or any stock screener.
You'll start with two numbers: capital expenditures and negative cash flow from operating activities. Add them together, and that's the burn rate. If the numbers were from quarterly data, divide by three for monthly burn rate.
Then calculate how much cash the company has to "burn." Add cash and cash equivalents to short-term investments.
Then divide that total by the monthly burn rate and you'll see how many months the company has until it runs out of cash.
Biotech Investing for Beginners, Step 2: Find the Convertible Debt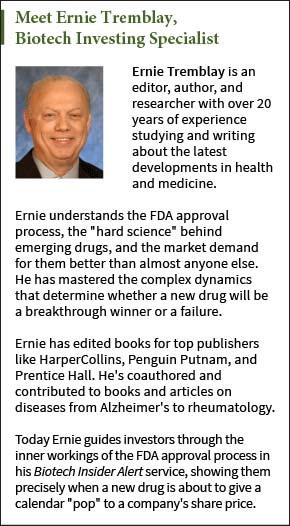 Tremblay says that you want to find stocks with as little convertible debt as possible.
Convertible debt occurs when a company borrows money from a lender and issues warrants to cover that debt.
"A warrant is a promise (bond) that gives the lender the right to purchase stock, often at a highly discounted, predetermined rate (strike price), in the future," Tremblay explained.
This is a great way for well-established companies to come up with financing. But it's risky for startups.
The problem is that lenders can – and often will – borrow shares and sell them short when the share price climbs. Then they'll cover (repurchase the shares) at a very low price by exercising their warrants. This is called convertible arbitrage.
If this is done with a big group of shares, the lender can force the stock price to fall when it should be climbing.
The convertible debt figure can be found in a company's 10-Q SEC filing.
Those are just the first two steps of Tremblay's seven-step biotech investing for beginners guide. Continue reading for the next five...