Not long ago, I told you the new Apple Watch will be one of the major catalysts that will drive Apple stock to a $1 trillion market cap.
Well, my own watch finally showed up the evening of May 1, and I've been testing it out ever since.
After using it for a few days now, I've come to believe that this is a truly great product. If anything, my latest Apple Inc. (Nasdaq: AAPL) share-price predictions were too conservative.
But don't believe me. After all, I'm a big Apple fan and maybe my enthusiasm is getting the better of me.
Instead, today I'm going to share a conversation I had with one guy who's literally on the front lines of Apple's latest success.
Here's what he had to say…
The Conversation
You can imagine how excited I was when I got an email from Apple telling me my new watch would arrive on Friday, May 1.
When I saw the UPS truck show up at my driveway about 6:30 that evening, I felt like a 5-year-old boy on Christmas morning. The driver handed me the package, got my signature, and then said something that caught my "investor's ear."
"Lucky you," he said. "I've been delivering these things all day long. We have tons of them lying around, whole pallets of them waiting to be delivered."
There's an important lesson in this brief conversation. After 35 years covering Silicon Valley, I know that a powerful anecdote can be as illuminating as reams of data.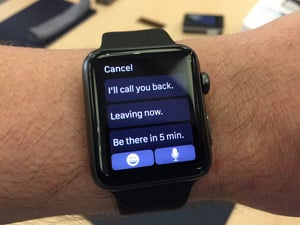 And I believe that UPS driver's story proves Apple has a winner in the making.
Morgan Stanley projects Apple Watch sales of 30 million to 60 million units in the first year. Using an average price of $400, that could mean annual sales of $12 billion to $24 billion.
My own forecast is far more conservative. I originally thought the company would sell about 10 million watches in their first year on the market for roughly $4 billion in sales.
I now believe that sales number will come in closer to 12.5 million.
Make no mistake. The Apple Watch is a great product. Indeed, of all the iDevices I've used over the years, this is already my favorite.
Here's why CEO Tim Cook was absolutely correct when he called the Apple Watch his company's most "personal" product…
Join the conversation. Click here to jump to comments…
About the Author
Michael A. Robinson is one of the top financial analysts working today. His book "Overdrawn: The Bailout of American Savings" was a prescient look at the anatomy of the nation's S&L crisis, long before the word "bailout" became part of our daily lexicon. He's a Pulitzer Prize-nominated writer and reporter, lauded by the Columbia Journalism Review for his aggressive style. His 30-year track record as a leading tech analyst has garnered him rave reviews, too. Today he is the editor of the monthly tech investing newsletter Nova-X Report as well as Radical Technology Profits, where he covers truly radical technologies – ones that have the power to sweep across the globe and change the very fabric of our lives – and profit opportunities they give rise to. He also explores "what's next" in the tech investing world at Strategic Tech Investor.