SanDisk stock is having some real troubles this year – which is a big change from where it's been…
SanDisk Corp. (Nasdaq: SNDK) stock tallied 250% gains from June 2012 to July 2014 with little interruptions.
But since then, SanDisk stock has been highly volatile.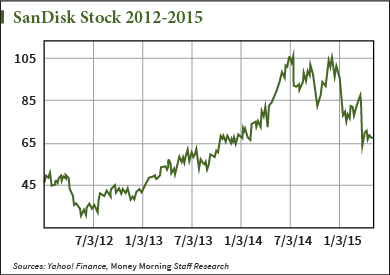 It began in July 2014 when SanDisk – the leading supplier of so-called "flash" memory products – reported its output capability would probably keep it from meeting demand in the quarter to follow.
The company lowered its earnings guidance. SanDisk stock got slammed. It fell as much as 15% going into August. Since then it's been moving up and down violently, as the SanDisk stock price chart to the right shows.
It's now down about 32% on the year. SNDK's most devastating day was on Jan. 12, when SanDisk stock fell 14% after it missed guidance on sales.
It recovered a bit over the next couple months until yet another announcement of missed revenue guidance hammered the stock another 19% on March 26. In the week to follow, SNDK bottomed out at $63.34, a drop of 35% in 2015.
Now, SanDisk stock has begun to inch back up, but hardly enough to reclaim anywhere near its 2014 highs.
So, what are investors to make of the SanDisk stock price today?
Should I Buy SanDisk Stock?
It's important to note that despite falling out of Wall Street's favor, SanDisk is still a solid company.
"This is a great company whose products are used in nearly every smartphone sold in the world today," Money Morning Defense and Tech Specialist Michael Robinson said. "I do still believe in SanDisk and the role it plays in the global tech ecosystem."
But this volatility has been a real problem when it comes to actually buying SanDisk stock right now.
"As much as I may like an individual stock, I always remind myself that in the long-run it really pays to remain a focused and disciplined investor," Robinson said.