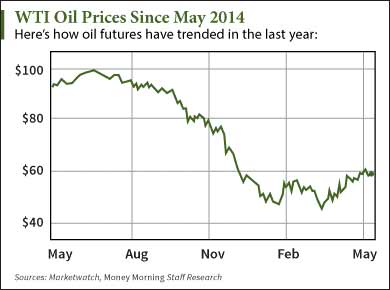 Oil prices have rebounded for two months, but are still down 35% from June highs.
Today's low prices mean it's a great time to find the best oil stocks to buy now, at a discount.
You see, oil prices are starting to rebound despite hovering near $60. That's because the market is reacting to increasing demand and mergers and acquisitions (M&A).
According to Money Morning's Chief Investment Strategist Keith Fitz-Gerald, the M&A "chaos in the energy sector" is an event of Darwinian proportions. While oil currently trades near $60, the strongest companies survive while the smaller firms are either acquired or run out of business.
It all began when Saudi Arabia started the "oil pricing war" six months ago...
How Saudi Arabia Inadvertently Boosted Oil Stocks
On Nov. 27, 2014, Saudi Arabia pulled the rug out from under the oil market by refusing to decrease production. The country decided to maintain its output of 30 million barrels of oil per day. The move stunned other OPEC countries and started a price war with the United States.
Oil prices fell more than 4% that day. Most energy investors saw that as the beginning of the end. Futures tumbled another 17% by the close of 2014.
While Saudi Arabia's decision hurt some U.S. producers, the move actually helped some energy firms.
"Instead of sending U.S. oil producers packing like they planned, the Saudis have actually created an environment where the best managed, best capitalized energy companies are hunkering down, flushing out the weaker players, and emerging stronger than they were before," Fitz-Gerald noted.
Schlumberger Ltd. (NYSE: SLB) is a prime example.
The oil field services giant reported Q1 earnings on April 16. It beat earnings expectations, posting a $1.06 earnings per share versus the $0.91 analyst estimate. SLB stock leaped more than 2.3% in pre-market trading that day.
Schlumberger faced lower crude oil prices in Q1 by aggressively cutting costs and laying off more than 9,000 people. The firm also repurchased 8.7 million shares of common stock for a total $719 million.
These measures boosted Schlumberger's first-quarter profit margins to 24.1%. That beat analysts' expectations of 22.5%.
"My point is that here you have a perfect example of a company that is doing better in an industry for which expectations are absolutely terrible," Fitz-Gerald explained. "The short-term price dislocation that everybody is so worried about is nothing more than a speed bump in the longer-term scheme of things."
For investors, SLB stock is not the best play right now. Fitz-Gerald gave us two other oil stocks to buy now that offer a better profit opportunity...
Two of the Best Oil Stocks to Buy Now
Fitz-Gerald's two oil stocks to buy now are Williams Co. Inc. (NYSE: WMB) and Marlin Midstream Partners LP (Nasdaq: FISH).
Oil Stocks to Buy Now, No. 1: Williams Co. Inc. (NYSE: WMB) owns and operates midstream assets for both oil and natural gas. The company also processes olefins - a type of hydrocarbon used to produce plastics and petrochemicals.
Since Fitz-Gerald recommended it early this year, WMB stock has gained about 16%. That beats the S&P 500's gains over the same period by 13%. Yahoo! Finance gives it a one-year target estimate of $54.71, which is 9.1% higher than its current price of $50.14.
Williams' dividend also offers growth potential. According to its Q1 earnings report, the company will increase its dividend by 22% to $2.38 this year. It plans on hitting $3.01 per share by 2017.
Oil Stocks to Buy Now, No. 2: Marlin Midstream Partners LP (Nasdaq: FISH) is another great dividend play, boasting a massive 7.49% yield.
The master limited partnership (MLP) is a midstream company, meaning it gathers and stores oil rather than producing it. Midstream MLPs are like "toll highways" in that they remain profitable as long as oil is produced. That reduces the impact of volatile energy prices.
"These kind of MLPs are great for investors, because they offer both the liquidity of a common stock and the tax benefits of a limited partnership," Fitz-Gerald said. "Most pay very high income to boot."
High dividend yields aren't the only reason to own these oil stocks. Increasing demand will also make WMB and FISH surge this year.
According to the International Energy Agency (IEA), growing worldwide demand for oil will trigger about $48 trillion worth of investments by 2035. But Fitz-Gerald thinks it's going much higher.
"When you take into account the amount of capital needed to compensate for aging infrastructure, warfare, and regional security, I think the necessary capital is going to be more like $80 trillion," he explained.
That, combined with ongoing Middle Eastern conflicts that can bring prices higher, make these oil stocks good buys today.
The Bottom Line: With oil prices still in the $60 range, picking the best oil stocks to buy now can appear risky. But the stronger companies' Q1 earnings have shown the oil sector is still profitable. WMB and FISH are two of the best oil stocks to buy now as long-term demand continues to creep up.
Thoughts on other oil stocks to buy now? Talk to us on Twitter at @AlexMcGuire92 and @moneymorning.
Bonus Content: Tom Gentile has been named "America's #1 Trader" for more than a decade now. That's because he's taught over 300,000 people how to build wealth through simple trading techniques. Here's how to get his free report - including a double-digit profit move you can make today...