The ride-hailing startup Uber is in a round of funding that could value the company at an astonishing $50 billion, according to a new report from The Wall Street Journal.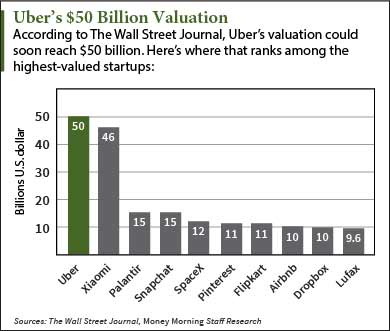 For investors, that also means there will be another delay for the Uber IPO. No Uber IPO date has been set yet.
According to the report, Uber is looking to raise between $1.5 billion and $2 billion in this round of funding. That will likely allow Uber to forego an IPO through the rest of 2015.
A $50 billion valuation would make Uber the highest-valued startup ever. Facebook Inc. (Nasdaq: FB) is the only venture-backed startup to reach a $50 billion valuation before an IPO.
The massive valuation sets up the Uber IPO to be the most hyped public offering since the Alibaba Group Holding Ltd. (NYSE: BABA) deal of September 2014.
Uber has grown at a tremendous rate. In May 2014, the San Francisco-based company was valued at $18 billion. Its value topped $40 billion by December 2014.
The Journal has also reported that Uber's 2014 revenue was roughly $400 million. At that rate, Uber is now worth more than 125 times its trailing revenue. But the company expects revenue to soar to $2 billion this year.
If Uber comes to market with a $50 billion valuation, it will already be bigger than 406 companies in the S&P 500. Household names like Twitter Inc. (Nasdaq: TWTR), Yahoo Inc. (Nasdaq: YHOO), and CBS Corp. (NYSE: CBS) would all be smaller than Uber.
The second-highest valued startup now is Xiaomi Inc., a Chinese smartphone company. Xiaomi is worth $46 billion. After those two there's a big drop off. The third-largest startup is the software company Palantir Technologies Inc., valued at just $15 billion.
There's no question the Uber IPO will be one of the biggest financial stories when it does happen. But the company still has some major problems to sort out before it can host an initial public offering...
Here's the Biggest Threat to an Uber IPO
The biggest issue facing Uber is the growing list of cities and countries that have either banned Uber or suspended its services.
The taxi industries and legislators in various cities around the world have also taken exception to Uber's practices. In many countries, Uber does not meet the necessary licensing and safety requirements.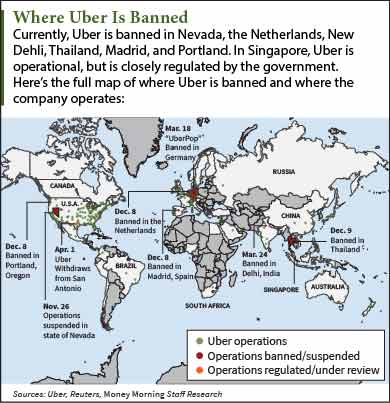 Within the last month, Uber has been banned in Geneva, Switzerland, and São Paulo, Brazil. The entire country of Portugal has banned Uber as well.
In each of those locations, Uber's services are said to be in violation of the local taxi regulations. And those are just the most recent bans on the ride-hailing service.
This map shows where Uber is banned through May 12.
On March 24, New Delhi, India, courts upheld a ruling banning all Uber operations. The operations were originally suspended in December after a passenger reported being raped by a driver.
In early December, Uber was banned in the Netherlands when a Dutch court ruled the company breaks local taxi laws.
[epom key="ddec3ef33420ef7c9964a4695c349764" redirect="" sourceid="" imported="false"]
"The law is out of date and that means the technological service we offer had not yet been invented," Uber spokesman Thomas van Oortmerssen told Reuters concerning the ruling in the Netherlands. "The law needs to be changed to make it possible and it is now up to the politicians to do that."
Similar sanctions have been placed on Uber in Thailand and Singapore. The cities of Madrid, Spain, Portland, Ore., and the state of Nevada have also banned the service.
Uber has been appealing these rulings around the world. Uber claims many of the laws regulating international taxi industries are outdated.
The laws may indeed be outdated, but the fact that the list of cities and countries banning Uber is growing, instead of shrinking is worrisome for investors. That is a major problem that needs to be solved before an Uber IPO.
The Bottom Line: Uber is now valued at more than $50 billion, making it the highest-valued startup ever. However, investors will be wary of an Uber IPO that happens before these issues are ironed out. It's always best to be on more solid global footing before asking for more money.
Double Your Money on the World's Most Valuable Company: Money Morning's Tom Gentile has found one small move that can help you make a 100% profit on a popular stock, all within the next 27 days. Here's how you can find out the step-by-step process to doubling your money...
Related Articles:
Last year #Uber was worth $18.2 billion at this time. Now $50 billion. Stunning growth

— Kyle Anderson (@KyleAndersonMM) May 12, 2015