Bitcoin News Today: After a recent string of good news, the price of Bitcoin has inched up some – and remains stable.
After hitting a recent low of $177 in January, the Bitcoin price looks to be stabilizing around $240.
More importantly, though, some major players are sniffing around the cryptocurrency – and are beginning to take it more seriously… with cash.
Goldman Sachs Group Inc. (NYSE: GS) recently said that it is co-leading a nearly $50 million investment in Bitcoin payments startup Circle Internet Financial as part of its effort to buy stakes in young financial-tech (fintech) companies.
The Boston-based company offers a digital "wallet" where people can store bitcoins and pay for things with them. Prior to this investment, Circle, founded in 2013, had raised at least $26 million in venture funding. It's now valued at around $200 million.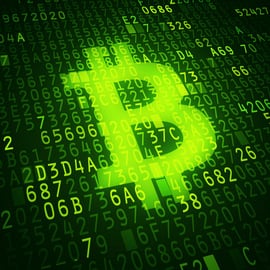 Goldman Sachs and venture capital firms are investing tens of millions in the "blockchain" and other behind-the-scenes aspects of the Bitcoin world.
This Bitcoin news sent a ripple through the world of cryptocurrency. The price of Bitcoin has spiked several times since the April 29 announcement.
Circle wants to use Bitcoin technology to transform the way consumers pay for things, by developing cheap, secure, and easy ways for people to transfer money.
Circle instantly converts your physical dollars into Bitcoin and vice versa.
Since Bitcoin came onto the scene, big banks have seen this digital currency as a potential threat.
But Goldman's recent vote of confidence is something of a tipping point, as appears to be the first time one of those big banks has actually invested in the Bitcoin sector.
Regardless of the motives, Goldman's stamp of approval will grease the wheels of mainstream adoption of the digital currency.
While Goldman's investment in Circle may be the biggest Bitcoin news today, it isn't the only important move I've seen in recent days…
Join the conversation. Click here to jump to comments…
About the Author
Michael A. Robinson is a 35-year Silicon Valley veteran and one of the top technology financial analysts working today. He regularly delivers winning trade recommendations to the Members of his monthly tech investing newsletter, Nova-X Report, and small-cap tech service, Radical Technology Profits. In the past two years alone, his subscribers have seen over 100 double- and triple-digit gains from his recommendations.
As a consultant, senior adviser, and board member for Silicon Valley venture capital firms, Michael enjoys privileged access to pioneering CEOs and high-profile industry insiders. In fact, he was one of five people involved in early meetings for the $160 billion "cloud" computing phenomenon. And he was there as Lee Iacocca and Roger Smith, the CEOs of Chrysler and GM, led the robotics revolution that saved the U.S. automotive industry.
In addition to being a regular guest and panelist on CNBC and Fox Business Network, Michael is also a Pulitzer Prize-nominated writer and reporter. His first book, "Overdrawn: The Bailout of American Savings" warned people about the coming financial collapse - years before "bailout" became a household word.
You can follow Michael's tech insight and product updates for free with his Strategic Tech Investor newsletter.