Bitcoin News Today: After a recent string of good news, the price of Bitcoin has inched up some – and remains stable.
After hitting a recent low of $177 in January, the Bitcoin price looks to be stabilizing around $240.
More importantly, though, some major players are sniffing around the cryptocurrency – and are beginning to take it more seriously… with cash.
Goldman Sachs Group Inc. (NYSE: GS) recently said that it is co-leading a nearly $50 million investment in Bitcoin payments startup Circle Internet Financial as part of its effort to buy stakes in young financial-tech (fintech) companies.
The Boston-based company offers a digital "wallet" where people can store bitcoins and pay for things with them. Prior to this investment, Circle, founded in 2013, had raised at least $26 million in venture funding. It's now valued at around $200 million.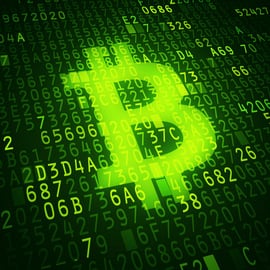 Goldman Sachs and venture capital firms are investing tens of millions in the "blockchain" and other behind-the-scenes aspects of the Bitcoin world.
This Bitcoin news sent a ripple through the world of cryptocurrency. The price of Bitcoin has spiked several times since the April 29 announcement.
Circle wants to use Bitcoin technology to transform the way consumers pay for things, by developing cheap, secure, and easy ways for people to transfer money.
Circle instantly converts your physical dollars into Bitcoin and vice versa.
Since Bitcoin came onto the scene, big banks have seen this digital currency as a potential threat.
But Goldman's recent vote of confidence is something of a tipping point, as appears to be the first time one of those big banks has actually invested in the Bitcoin sector.
Regardless of the motives, Goldman's stamp of approval will grease the wheels of mainstream adoption of the digital currency.
While Goldman's investment in Circle may be the biggest Bitcoin news today, it isn't the only important move I've seen in recent days…
Join the conversation. Click here to jump to comments…
About the Author
Michael A. Robinson is one of the top financial analysts working today. His book "Overdrawn: The Bailout of American Savings" was a prescient look at the anatomy of the nation's S&L crisis, long before the word "bailout" became part of our daily lexicon. He's a Pulitzer Prize-nominated writer and reporter, lauded by the Columbia Journalism Review for his aggressive style. His 30-year track record as a leading tech analyst has garnered him rave reviews, too. Today he is the editor of the monthly tech investing newsletter Nova-X Report as well as Radical Technology Profits, where he covers truly radical technologies – ones that have the power to sweep across the globe and change the very fabric of our lives – and profit opportunities they give rise to. He also explores "what's next" in the tech investing world at Strategic Tech Investor.