Gold and silver prices today surged following a soft U.S. retail report and tepid economic data out of China.
June gold futures hit a two-week high, eclipsing the key $1,200 level, in early trading. Shortly before 11 a.m., spot gold prices were up $25.30, or 2.12%, at $1,219.50.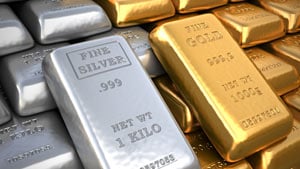 Silver prices today surpassed $17 an ounce to reach a six-week high. Silver prices soared $0.71, or 4.14%, to $17.30.
The key driver behind Wednesday's gold and silver price gains was a dismal read on April retail sales.
The Commerce Department reported retail sales were flat last month. Sales minus autos and gasoline rose a scant 0.2%, well short of the 0.6% forecast. Warmer weather and falling pump prices were expected to boost consumer spending in April. The disappointing results raised doubts about whether U.S. consumers will buoy economic growth this year, which to date has been muted at best.
Retail sales in the past 12 months have slowed to a 0.9% rate. That's the smallest year-over-year (YOY) gain since October 2009, just after the U.S. emerged from the Great Recession. Retail spending has been decelerating since August, when the annualized pace of sales briefly hit 5% for the first time since 2013.
China Moves Gold and Silver Prices Today
Further stoking gold and silver prices today was uninspiring economic data out of China.
China's industrial production rose 5.9% in April from a year ago, the National Bureau of Statistics reported Wednesday. The figure, however, was shy of the median 6% growth economists had projected.
The industrial output figure, which normally is well above overall economic growth levels, remained below both the overall YOY economic growth rate of 7% booked in the Q1, as well as the government's target of about 7% growth for FY2015.
Wednesday's gold and silver price rally followed strong gains for both precious metals on Tuesday.
For gold, the most actively traded contract for June delivery rose $9.40, or 0.8%, to end Tuesday's session at $1,192.40 an ounce. It was the highest close since May 5, when prices closed at $1,193 an ounce. Silver prices jumped $0.21, or 1.3%, to $16.51.
Goosing gold and silver prices Tuesday was a sharp sell-off in global bond markets, which sent some investors to the precious metals market.
Gold and silver have recently benefited from unusual volatility in debt markets, which has dented bonds' status as a haven. Gold and government bonds compete for investor attention since both are deemed safe places to park cash during periods of global disruption.
Money Morning recently featured some of the best ways to make money from gold and silver prices today. Here are five ways to profit: