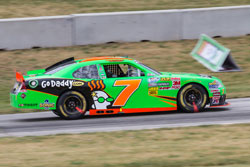 The GoDaddy Inc. (NYSE: GDDY) IPO has been one of the most talked about IPOs of 2015.
The GoDaddy (NYSE: GDDY) share price opened at $20 on its April 1 debut. GDDY stock soared 30.8% that day to settle at $26.15.
Since then, it's made some drastic moves. Here's how GoDaddy stock has performed since hitting the market, and where it's headed in 2015...
How Has the GoDaddy (NYSE: GDDY) Share Price Performed Since the IPO?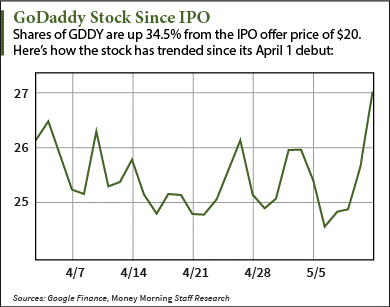 Since the IPO, the GoDaddy (NYSE: GDDY) share price has been volatile.
After closing above $26 on its first day, GDDY stock quickly tumbled. It fell 1.3% over the next two trading sessions and dropped 4% over the following week.
But GDDY shares have been surging recently. After hitting a low of $24.41 on May 6, the stock has gained 9.7% since. It currently trades near $27.
Interest in GDDY stock stems mostly from brand awareness. You see, GoDaddy is the world's largest web hosting company. It manages nearly a fifth of the world's Internet domains, with close to 60 million domains under its management.
GoDaddy spent $11.6 million on advertising in the first quarter of 2013 alone. Its TV spots during the Super Bowl and other events are considered controversial by some. They usually feature scantily clad models.
The company hit a milestone after market close yesterday (Tuesday) when it released its first earnings report as a public company. GoDaddy posted a loss of $43.4 million, or $0.34 per share, for the first quarter. That's 18.2% less than the loss of $51.3 million from Q1 2014. Revenue rose 17.5% from $320.2 million to $376.3 million over the same time period.
"Our investments in products, technology platform, and customer care are making a real difference for our customers around the world, and our first quarter results demonstrate the benefits of focusing on their needs," said CEO Blake Irving.
The GoDaddy (NYSE: GDDY) share price saw a knee-jerk drop. It dipped more than 2% in post-market trading following earnings.
GDDY is now trading at $27 a share. Here's how we recommend playing the stock...
Is GoDaddy (NYSE: GDDY) Stock a Buy?