Cisco stock price movements were muted today (Thursday) on an earnings beat yesterday.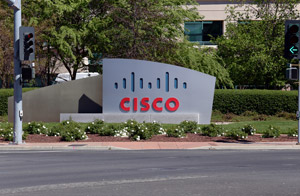 While Wall Street trading activity remains subdued on the data networking giant, this earnings season is actually a pivotal time for the company.
This is the last earnings season where the veritable face of Cisco Systems Inc. (Nasdaq: CSCO) for 20 years, John Chambers, will preside over his networking empire. He's handing the job off to Chuck Robbins in July.
"I'm encouraged to see they're changing leaders," Money Morning Defense and Tech Specialist Michael Robinson said. "I think that Chambers has been there a little bit too long, he's been at the helm a really long time."
And while Cisco is more of a dominating market presence in the world of data networks than it is an aggressive innovator - and Robbins by extension is no revolutionary - there are going to be pressures to make bold moves as enterprise tech evolves.
Which makes right now, after a Cisco earnings beat and before a change at the top, a good time for investors to ask themselves, "Should I buy Cisco stock?"
Here's what you need to know before you buy Cisco stock...
Cisco Stock: A Play on Data Networking Hardware
There's no denying Cisco's market presence.
When it comes to network hardware, Cisco is the undisputed leader.
They lead market share in switches at 56.8%, routing at 47.8%, data center network hardware at 46.9%, and even to a lesser extent, IP telephony and Wireless LAN at 28.3% and 24.7% respectively, according to Bloomberg Intelligence.
What is troubling about this, however, is that while Cisco is going to be hard to topple, its market share is being chipped into by a couple of scrappy players.
"The challenge for the new CEO will be defending market share," Money Morning's Robinson said.
The biggest thorn in Cisco's side is Juniper Networks Inc. (NYSE: JNPR). Juniper is by no means a serious threat to Cisco's dominance, but they do have the ability to steal revenue from them.
For example, Cisco's market share for switches was at 64.5% in 2010, and fell to just around 57% in 2014. Juniper's has grown from 1.8% to 3%. In data center networking hardware, Cisco has fallen from 58.7% in 2014 to 46.9% - Juniper has grown from 2.1% to 3%.
Goldman Sachs (NYSE: GS) is a Juniper client, for example.
And Cisco will further be challenged in Asian markets by its Chinese counterpart Huawei Technology Co. Ltd. Huawei has grown routing market share from 6.9% in 2010 to 12.8% in 2014, while Cisco's has fallen from 55.3% to 47.8%.
So what does this mean for Cisco stock as a legacy tech player?