For  Friday May 15, 2015, here's how the stock market did today, earnings reports, the top stock market news, and stocks to watch based on today's market moves…
How Did the Stock Market Do Today?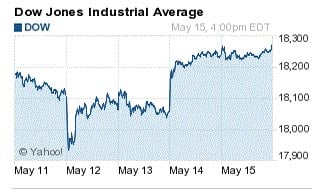 Dow: 18,272.62, +20.42, +0.11%
S&P 500: 2,122.71 +1.61, +0.08%
Nasdaq: 5,048.29, -2.5, -0.05%
The DJIA Index limped across the finish on Friday, adding twenty points, after mixed economic data suggested that the U.S. economy is not growing as quickly as economists had anticipated. Microsoft Corp. (Nasdaq: MSFT) was the largest contributor to the S&P 500's decline today by falling 1.3%. However, the S&P 500 finished at another record close at 2,122.71.
The S&P 500 Volatility Index (VIX), the market's fear gauge, slipped 2.4% the day.
Top Stock Market News Today
Stocks to Watch: CLX, AVP, NFLX, YUM, LOCO
How to Make Money in the Stock Market Today