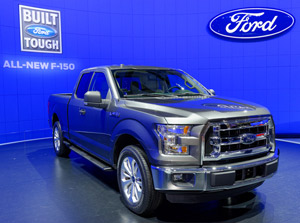 The Ford stock price has had a lackluster year. It's down 4.4% in the last month and 1.6% in 2015. It currently hovers near $15.
But don't let that scare you off. We see Ford Motor Co. (NYSE: F) stock pushing higher throughout 2015. That's because the automaker is on track to having one of its best years ever.
Here's what has driven the Ford stock price down and why it's headed for a rebound…
What Has Affected the Ford Stock Price Recently?
The largest influences on the Ford stock price are the monthly sales reports. Car sales are typically measured by seasonally adjusted annual rate (SAAR).
SAAR accounts for fluctuations that might occur from seasonality. SAAR removes seasonal variation, making data more accurate across different periods.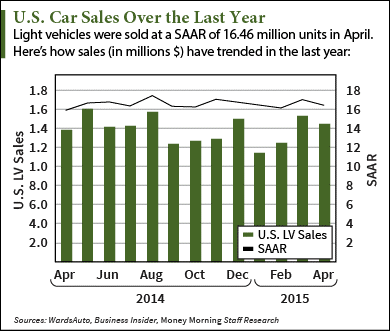 SAARs have been up and down over the last 12 months. In April, U.S. car sales missed analyst expectations.
"Light vehicles" – a sales category including cars, sport utility vehicles, and light trucks – sold at a SAAR of 16.46 million in April. While that was the highest for the month since 2005, it fell below analysts' forecast of 16.9 million. April's rate dropped 3.5% from March's rate of 17.05 million.
Despite April's miss, sales have been strong in 2015. There were 5.41 million light vehicles sold between January and April. Only 5.13 million were sold over the same period in 2014. Auto information company TrueCar expects Ford to sell 17 million cars this year.
Ford's vehicles have made up a large part of total U.S. auto sales among all carmakers. According to its earnings report, the company sold 813,552 vehicles in the U.S. last quarter. That's 15% of all units sold so far this year.
"The first quarter was a good start to a year in which our results will grow progressively stronger as the new products we have been launching start to pay off," said CEO Mark Fields in a press release. "We are re-confirming that 2015 will be a breakthrough year."
In 2014, Ford sold 753,851 F-Series pickup trucks, including the popular F-150 model. The F-Series has been the best-selling truck in the U.S. for 38 straight years and best-selling vehicle for 33 straight years.
And the company is making more money on each vehicle it sells. You see, Ford's products have tremendous pricing power. It's able to regularly raise prices because demand is so high. The company stated retail demand for the F-Series is up 7% from 2014 and that it "remains one of Ford's fastest-turning vehicles on dealer lots."
But that isn't the only reason we're bullish on Ford stock. These two external catalysts will boost sales and send the Ford stock price higher in 2015…