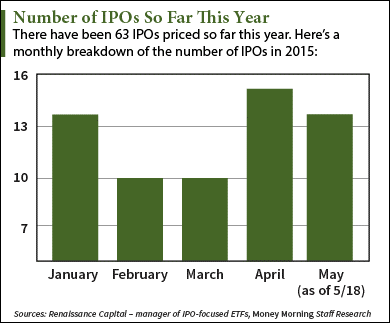 There are five upcoming IPOs this week set to raise a combined $973 million.
Last week we had the year's largest IPO by market cap.
The EQT GP Holdings LP (NYSE: EQGP) IPO's $7.2 billion market cap beat the preceding week's Tallgrass Energy GP LP (NYSE: TEGP) as the largest of 2015 to date.
We also saw a massive biotech IPO last week. Galapagos NV (Nasdaq ADR: GLPG) raised $275 million, surpassing Juno Therapeutics Inc. (Nasdaq: JUNO) as the largest U.S. biotech deal in the last 15 years.
According to Renaissance Capital, a manager of IPO-focused ETFs, this could be the first week of 2015 that sees more than one tech IPO. There are two e-commerce companies set to hit the market – one from Canada and one from China.
Here are all five upcoming IPOs this week on the Money Morning IPO calendar…
Five Upcoming IPOs This Week
Black Knight Financial Services Inc. (NYSE: BKFS) offers automated solutions for mortgage data servicing. The company is a spin-off of Fidelity National Financial Inc. (NYSE: FNF), a leading provider of title insurance, technology, and transaction services to the real estate and mortgage industries. Black Knight's platform is used by all top 25 U.S. mortgage servicers, giving the company a dominant market position. It plans to raise $400 million by offering 17 million shares at a $22 to $25 price range. Black Knight commands a market valuation of $3.5 billion and will hit the market on Thursday, May 21.
Press Ganey Holdings Inc. (NYSE: PGND) is a provider of patient survey and advisory services to healthcare companies. Officially on file under the name PGA Holdings, Press Ganey works in the nearly $4 billion market for healthcare patient satisfaction. The firm is boosted by the Affordable Care Act, which offers incentives that make healthcare more focused on consumers. The company's revenue and earnings grew 15% and 37% respectively in the first three months of the year. PGND is set for a $205 million deal. It will sell 8.9 million shares at a price range of $22 to $24. It's valued at $1.5 billion and will begin trading on Thursday, May 21.
Here are three more upcoming IPOs this week…