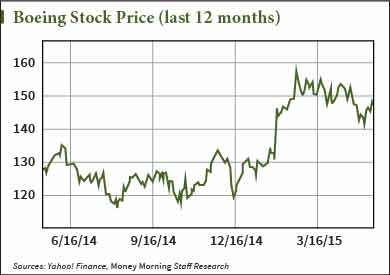 For all the violent swings in the Boeing stock price over the last month, you can't go wrong by loading up on its shares right now.
Boeing Inc. (NYSE: BA) stock is a compelling "Buy," for all the obvious reasons, of course.
After Lockheed Martin Corp. (NYSE: LMT) all but left the commercial airliner business, and Boeing bought up McDonnell Douglas in 1997, there's really only two places to go to buy into this more than $120 billion industry.
The Boeing and Airbus Group (OTCMKTS: EADSY) duopoly has turned the commercial jetliner industry into a slugfest for control of the skies and both see themselves tapping into a fast-growing market over the next two decades.
But simply being in a growing industry isn't enough reason to buy a stock.
After all, from 2001 to 2003 the commercial jetliner industry was reeling from the September 11 attacks, but also a general malaise in business. During this time it was painful to be a Boeing shareholder.
But luckily, today things look much brighter for the industry.
"The long-term outlook for this market is really good," Money Morning Executive Editor Bill Patalon said.
By Boeing's own estimations, the commercial jetliner market will be worth $5.2 trillion over the next 20 years, up from previous estimates of $4 trillion.
"That's one-third of the size of the U.S. economy. That's a lot of aircraft," Patalon said. "There's going to be a huge demand for jetliners over the next twenty years."
That demand is largely going to come from the need to replace the existing fleet of commercial aircraft. The planes currently occupying the skies can only do so for so long.
"The existing jets that are in fleets are going to get older," Patalon said. "They can only be cycled through takeoffs, high altitude pressurizing, depressurizing, bringing them down to land – they can only go through that cycle so many times before you start having metal fatigue and safety issues. And they're not fuel efficient anymore."
And here's how that translates to 36% upside for the Boeing stock price…