Most people are still trying to find their place in the world when they're 27 years old.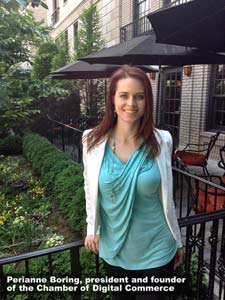 Not Perianne Boring.
She's the president and founder of the Chamber of Digital Commerce, a trade association designed to advocate for Bitcoin not just on Capitol Hill, but amongst the regulatory maze that is Washington.
Before she founded the CDC, Boring served as a White House intern, a legislative aide to a Florida Congressman, and a journalist with her own blog ("The Boring Bitcoin Report").
Boring has become one of the strongest voices for Bitcoin in the country. On Coinfilter's "Top 40 Women of Bitcoin" list, Boring clocks in at No. 1.
We recently had the chance to sit down with Boring and talk with her about how she's managed to achieve so much in such a short time, Washington's evolving relationship with Bitcoin, and more.
We are publishing this exclusive interview in three parts. We start today with Part I.
The Perianne Boring Bitcoin Interview: Part I
MONEY MORNING: How did you end up in Washington?
PERIANNE BORING: Well, it really goes way back. When I was seven my mother was diagnosed with cancer. My brother was two... So I kind of became a mother overnight. My mother was sick and my father had to work. So we relied on a series of volunteers. From a young age I got to learn how important volunteers were and how much of a difference they can make in the lives of so many people. So I became a volunteer myself - at seven years old volunteering at the American Cancer Society.
By the time I was 14 I became the youngest nationally trained patient family volunteer in the country for hospice. So when I went to college I had a large background in volunteer service. And my advisor had flagged my profile as someone that should apply for a White House internship, although I was not very political. So I applied and was chosen out of 3,000 people to intern at the White House.
And from that moment I decided I was going to dedicate my career to strengthening the economic trajectory of our country.
Also, when I was in college, I was studying economics at the University of Florida. And I was there during the 2008 collapse. So in real time I'm studying one of the most historic economic collapses. And I'm from Florida where the housing collapsed - it devastated our community. So many people within our community, their houses went underwater, they lost their homes. And it was really quite scary what I was seeing. And so I spent a lot of time studying what happened. Why all these terrible things were happening to our community. And what I realized was that our generation - my generation - is facing very significant economic and fiscal challenges.
So at about that same time is when I was chosen to come to Washington, D.C., and do an internship at the White House. And from that moment I decided I was going to dedicate my career to strengthening the economic trajectory of our country. After college I got a job working on Capitol Hill working for a Congressman from Florida [Rep. Dennis Ross, R-Fla.]. I worked as an economic adviser.
I learned about Bitcoin through that process. From the moment I heard about Bitcoin I thought it was really interesting. Over the years of working and living in D.C., I saw a huge opportunity, a lot of promise, and the potential benefits of this technology - and decided to dedicate my career full-time to this ecosystem.
MM: That's great - and very bold!
PB: We've seen so many people from Wall Street, from the most prestigious tech companies, from Facebook and Twitter and Amazon and Google - all jumping into the financial technology startup companies. And I did that, too. I just kind of jumped off the building, I didn't have a parachute. I'm hoping there's a trampoline or something, something at the bottom to catch me. It's been a wild ride but it's been exciting. I'm very much looking forward to what the technology is going to bring.
MM: There are a lot of big names getting into Bitcoin now.
PB: Richard Branson is in the space. Mark Andreessen is in the space. They're the best and the brightest. They are very successful people.
MM: But it's still taking a while for Bitcoin to get traction - why do you think that is?
PB: I would look at it as a piece of infrastructure. It's payment rails. It can be used for other things nonfinancial. But look at the automobile. The automobile has increased the standard of living. You need a government license to operate one. But how many people who drive a car understand how it works underneath? So that consumer piece needs to be ready. And that's what the industry is slowly working towards. And it takes time to build big things. But making sure that it's easy to use, that it has proper oversight, will be important to consumer adoption. And it's not necessary for everyone who's going to use Bitcoin to understand the mining process, or the inner workings of how bitcoins move from wallet to wallet. You don't need to know all that for it to benefit your lifestyle.
MM: Just like most people don't know all the things that go on when they swipe their credit card.
PB: There's over nine steps from the time that you swipe your credit card to the time the merchant gets paid. And it's not a very transparent process, either.
MM: And it takes days for the transaction to clear.
PB: I'll tell you something that's interesting. When I worked on the Hill I was there for the Durban Amendment. I was lobbied on the Durban amendment. And there's a lesson for the digital currency industry. All the card issuers and the credit card companies from Visa and MasterCard, American Express, and Discover - they are all competitors and they fight for market share and that's true and obvious and reasonable. That's the way business works.
We are here to serve the industry. But we provide a platform for the Bitcoin industry to come together on these very challenging issues that the industry faces.
But when it comes to Washington, they have their story together. And they work together. Because they understand that no one's going to market unless they get that government affairs piece fixed. Which is something the digital currency industry has struggled to figure out. It's really the decentralized nature of the technology. It's kind of like herding cats. Coming together in Washington and having a coordinated effort is what the Chamber of Digital Commerce is about. We're a nonprofit organization. We are here to serve the industry. But we provide a platform for the Bitcoin industry to come together on these very challenging issues that the industry faces.
MM: When did the CDC start?
PB: We launched the Chamber in July 2014, so just under a year. We knew that there was a huge need to have an organization represent this industry to public policymakers. But we never could have anticipated the type of response we got from the government community. Since the day that we opened our doors, we've been filled with inquiries from so many people that work within the corridors of government that want to learn about this technology. Either because it's coming across their desk, or their boss is asking about it, or there's internal meetings... For some reason or another, Bitcoin has crossed their desk and they needed somewhere to go to ask a hundred dumb questions that you don't want to ask in front of your boss, or you don't want your boss to ask in front of the media.
And there really was not a good place to go to get high-quality, high-integrity, non-biased information on what this is. You have tons of companies that operate within the digital currency ecosystem. You certainly could call up any of those companies. But one, how do you know who they are? Do these companies meet your basic standards? And at the end of the day, if they're a for-profit company, they have something they're driving. As a non-profit organization we can provide that non-biased, third-party information just about the ecosystem and the technology and be a resource to those who are forming the public policies and the rules and regulations that we're going to have to adhere to.
MM: How big is your staff?
PB: We have a few full-time employees, but we are leveraging the Washington, D.C., community. One thing that I love about living and working in this town is that you have some of the best and brightest people from all areas of the law here. And a lot of these people we would never be able to afford as full-time employees of our organization. So we leverage those who are working in other law firms and use them on an as-needed basis.
We also have an advisory board. Our advisory board has former regulators, former public policy makers, people with areas of expertise in different parts of the law who are contributing on our public policy goals. So for example, a former chairman of the CFTC is on our board, so anytime that we up against an issue that has anything to do with commodities, he's our go-to person. We also have George Gilder, who is the author of 17 books. He's been an advisor to multiple presidential administrations. He was in the Oval Office when the first email was sent from the White House. He actually got to push the send button because the president was afraid to push it.
MM: Was that Reagan?
PB: I think it was Reagan, yeah. So these are the types of people we are leveraging to work with us and to help guide our members on the strategies going forward with our public policy goals.
Tomorrow, in Part II: I talk to Perianne Boring about the potential of Bitcoin to revolutionize the world financial system and the growing role of women in Bitcoin.
Part III: I talk to Perianne Boring about the many regulatory challenges Bitcoin faces, and why there's reason for optimism.
Follow me on Twitter @DavidGZeiler.
Join the conversation. Click here to jump to comments…
About the Author
David Zeiler, Associate Editor for Money Morning at Money Map Press, has been a journalist for more than 35 years, including 18 spent at The Baltimore Sun. He has worked as a writer, editor, and page designer at different times in his career. He's interviewed a number of well-known personalities - ranging from punk rock icon Joey Ramone to Apple Inc. co-founder Steve Wozniak.
Over the course of his journalistic career, Dave has covered many diverse subjects. Since arriving at Money Morning in 2011, he has focused primarily on technology. He's an expert on both Apple and cryptocurrencies. He started writing about Apple for The Sun in the mid-1990s, and had an Apple blog on The Sun's web site from 2007-2009. Dave's been writing about Bitcoin since 2011 - long before most people had even heard of it. He even mined it for a short time.
Dave has a BA in English and Mass Communications from Loyola University Maryland.