For most of the day yesterday (Tuesday), Yahoo! Inc. (Nasdaq: YHOO) stock was trading slightly up.
That was until news reports came out suggesting that the Internal Revenue Service was considering changes to tax rules governing spin-offs.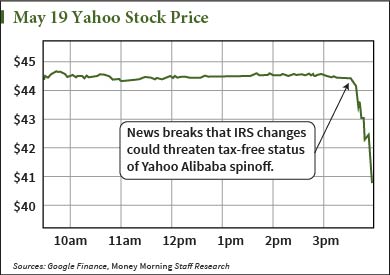 Fearing that any future changes would affect the tax-free spin-off of Yahoo's 15% stake in Alibaba Group Holding Ltd. (NYSE: BABA), traders fled en masse. In the last half-hour of trading, the Yahoo stock price plunged 7.7%.
YHOO stock closed at $40.98. This was its lowest close since October 2014.
The recent sell-off was mostly noise. Yahoo stood firm on its commitment to spin off its Alibaba stake and the rumored IRS talks hardly present the kind of doomsday picture for Yahoo that this sudden drop would suggest.
That's why in early morning trading today YHOO stock regained some of its losses and was up 3.4% by noon ET.
And while the news sent YHOO stock sliding, it illustrates this very important point for anybody who's looking to buy YHOO stock right now…
What This Sell-Off Says About YHOO Stock
It's not groundbreaking to say YHOO stock's only true value comes from the windfall gains it promises to bring shareholders once it sheds its now-$33.6 billion Alibaba stake.
Save for yesterday's plunge – which itself was tied entirely to its potential Alibaba fortunes – YHOO stock has done a good job of tracking Alibaba stock price movements.
Beyond this there is very little to get excited about with YHOO stock.
Absent Alibaba, all that's left is a digital ad vendor that has fallen too far behind Google Inc. (Nasdaq: GOOG, GOOGL) and Facebook Inc. (Nasdaq: FB) to emerge as the top-tier Internet giant it once was.
Yahoo CEO Marissa Mayer likes to think she's duking it out with Google and Facebook, and even made a point at Fortune's "Most Powerful Women" event this week to say Yahoo is in their elite company with over a billion users.
A Fortune article also pointed out that only "Yahoo, Facebook, and Google have more than $5 billion in digital ad revenue."
While this is true to a point, it's misleading…