The top 15 startups in the world have raised a combined $16.16 billion dollars to date and are valued at a combined $222 billion.
This startup valuation chart shows the highest-valued startups in the world as of May 2015: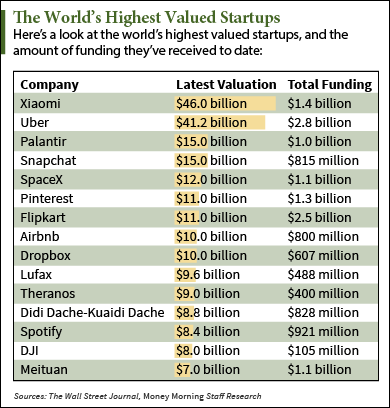 The startup valuation chart is great for investors looking for the next hottest IPOs. After several rounds of funding, startup companies will typically take their firms public.
Here's a closer look at the top five companies on the highest-valued startup list...
Behind These Billion-Dollar Startup Valuations
Xiaomi Inc. is currently the highest-valued startup in the world at $46 billion. Xiaomi's most recent round of funding came in December 2014. All told, the company has raised roughly $1.4 billion in equity funding.
Xiaomi was founded in 2010 and is the largest smartphone vendor in China. It is currently the third-largest in the world. It's also one of the most highly anticipated IPOs in 2015.
But Xiaomi's reign as the top startup may be short lived. Reports last week indicated that Uber Inc. is in discussions to raise an additional $1.5 billion to $2 billion at a $50 billion valuation.
Uber has grown at a tremendous rate. In May 2014, the San Francisco-based company was valued at $18 billion. Its value topped $40 billion by December 2014.
Tied for third at $15 billion are Palantir and Snapchat. Palantir is a software company that works mostly with federal agencies and counterterrorism analysts. Snapchat is a mobile messaging service that allows users to send pictures and messages that disappear after opening. Neither company has mentioned an upcoming IPO, but with their valuations soaring rumors say they could plan for an IPO in late 2015 or sometime in 2016.
SpaceX, Elon's Musk's private aerospace manufacturer and space transport company, rounds out the top five with a valuation of $12 billion. The company has booked nearly 50 launches through 2017, including commercial satellite launches as well as NASA missions. These are expected to bring in roughly $5 billion in sales.
Check back at Money Morning for more updates on the list startup valuations and upcoming IPOs.
Double Your Money on the World's Most Valuable Company: Money Morning's Tom Gentile has found one small move that can help you make a 100% profit on a popular stock, all within the next 27 days. Here's how you can find out the step-by-step process to doubling your money...
The top 15 startups in the world are valued at a combined $222 billion. They've raised a combined $16.16 billion #tech #stocks

— Kyle Anderson (@KyleAndersonMM) May 20, 2015