It's been a good year for Salesforce.com Inc. (NYSE: CRM) stock.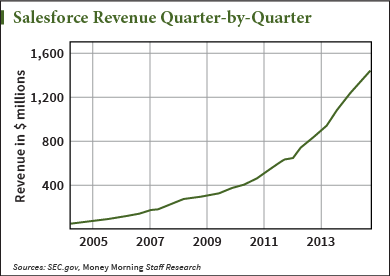 The cloud computing pioneer was already on a tear but really began to pick up steam when rumors started circulating last month that a legacy tech giant was looking to buy the company. On that day, the CRM stock price soared 11.6%.
Those rumors have all but quieted as of late and CRM stock retreated a bit from these highs. But Salesforce earnings released yesterday (Wednesday) reawakened Wall Street to this cloud innovator.
Salesforce revenue was up 23% year over year to $1.5 billion. It was the 44th quarter-over-quarter growth in sales. And even for a company that spends a lot on marketing, it managed an earnings-per-share of $0.01 and maintained an impressive free cash flow of 15.5% of revenue.
CRM stock was up 5.2% as of 11 a.m. ET today. On the year, CRM stock is now up about 25%.
Salesforce has really been flying onto Wall Street's radar lately. Though, the story of CRM stock is much more than just the recent headlines.
This is a game-changing company with a revolutionary CEO in Marc Benioff. He's helped make cloud computing a buzzword in the tech sector.
Microsoft Corp. (Nasdaq: MSFT), Amazon.com Inc. (Nasdaq: AMZN), and International Business Machines Corp. (NYSE: IBM) are often the loudest voices in the discussion over cloud, though it was Salesforce that started it well before the tech world even knew what the cloud was.
Here's the story behind Salesforce.com and why, as cloud computing matures, CRM stock will pay off for investors...
CRM Stock Is a Pure Play on Cloud
Salesforce is the brainchild of Marc Benioff, an Oracle Corp. (Nasdaq: ORCL) alum and friend to former CEO Larry Ellison.
His plan was to give salespersons an ability to track leads and manage clients (customer management relationship, or CRM) in a much easier, more cost-effective manner. When he started up Salesforce in 1999, the CRM leader was Seibel CRM Systems Inc.
He was taken aback by the expensive overhead costs that came with managing sales software. It wasn't just the software that was expensive. It was the support, the consulting services, the hardware, the training, etc.
That's where his "End of Software" campaign began.