Every week we update readers on how our top stock picks are performing in 2015. This week, we see our energy stocks climbing the ranks as the oil-price rebound continues.
From June 20, 2014, to March 17, 2015, crude oil prices fell from $106.83 to $45.19 - a 57.7% plunge. Since that bottom, crude oil prices have rebounded 34%. The current price of crude oil is around $60.70.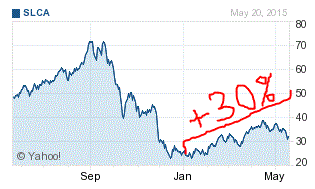 A number of energy stocks are getting a nice boost from this surge in oil prices. The best performing energy stock is Alon USA Energy Inc. (NYSE: ALJ). ALJ stock is up 34% this year. Money Morning Associate Editor David Zeiler recommended ALJ stock as a Gulf Coast refiner poised to win from a Keystone Pipeline deal. The Keystone deal has yet to pan out, but ALJ stock has.
Then there's U.S. Silica Holdings Inc. (NYSE: SLCA) stock. It's up 30.4% this year.
U.S. Silica provides "frac sand" - specialized sand that props open fractures in the hydraulic fracturing process. Hydraulic fracturing, or fracking, involves pumping millions of gallons of highly pressurized water into horizontal wells dug in shale rock. This opens cracks in the shale that allow oil and natural gas to flow into the well and reach untapped hydrocarbon deposits.
Without SLCA's frac sand, those cracks would close up and the hydrocarbons would remain trapped in the shale.
Other oil and energy companies getting a boost from this crude oil rally are Valero Energy Corp. (NYSE: VLO), which is up 22.4%, Williams Companies Inc. (NYSE: WMB), up 18.2%,  and Halliburton Co. (NYSE: HAL), up 17.4%.
To see 10 of our 2015 top stock picks, check out the table below: