One number summarizes the global oil market: 93,002,710.
That's how much oil was produced around the world every day in 2014, according to the Energy Information Administration (EIA).
So how much oil does the U.S. have compared to the world's top producers?
The chart below shows how much the top 15 oil-producing countries generated in 2014: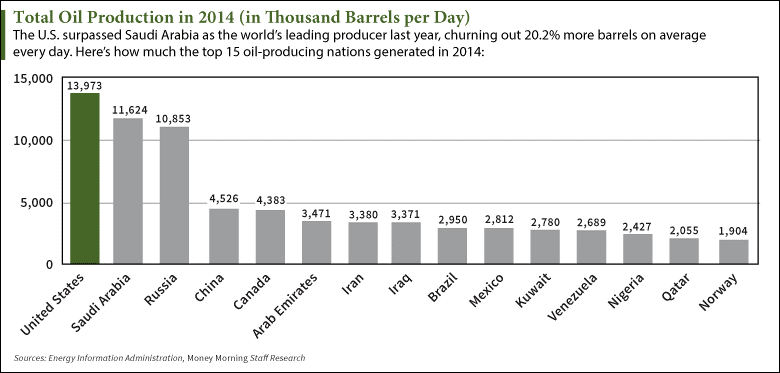 The United States' daily production last year was higher than the combined production of Kuwait, Venezuela, Nigeria, Qatar, and Norway. U.S. output beat Saudi Arabia and Russia by 20.2% and 28.7% respectively.
The U.S. was neck and neck with Russia for most of the 2000s. The last year of that decade when the U.S. was ahead of Russia was 2003. The U.S. produced 8.8 million barrels a day, which was 2.7% more than Russia's 8.5 million barrels a day.
From 2004 to 2011, Russian output beat U.S. output by an average of 11.2%. Saudi Arabia beat U.S. output by 24.3% over the same period.
Now, the U.S. dominates the oil market as the world's leading producer. But with falling rig counts, can it hold on to the top spot?
How Much Oil Will the U.S. Have in 2015?
Despite lower rig counts, supply reports have analysts estimating that we're going to keep the top spot this year.
"Even though rig counts are falling every month, production has increased," said Per Magnus Nysveen, senior partner at Norwegian oil firm Rystad, to CNN. "Production and rig counts have moved in the opposite direction."
Oil production reached unprecedented highs earlier in 2015.
U.S. crude oil inventories totaled 406.7 million barrels during the last week of January. According to the EIA, that was the highest level for that time of year since 1935. The massive oil stockpiles caused WTI prices to sink to a fresh low of $48.79.
But prices have surged in the last few months. In fact, they've rebounded 20.4% since January.
The reason behind the comeback is simple - oil production is starting to decline. According to Money Morning Global Energy Strategist Dr. Kent Moors, it will have significantly declined by July.
Supply has consistently drawn down recently. Inventories declined for the third consecutive week last week. Unconventional wells only churn out oil for about 18 months, meaning production will continue falling back over the summer.
Reduced drilling and M&A activity will also lower oil supplies. All of these forces are working together to boost demand and outpace supply.
In other words, the U.S. won't have nearly as much oil this year as it did last year. With prices already starting to stabilize, the market will reach equilibrium before the end of 2015.
"I do believe oil prices will climb significantly by late August," Moors explained. "Assuming there are no geopolitical 'wild cards' that cause prices to spike higher, I believe oil will trade in the low $80s range by the end of 2015."
Follow us on Twitter at @AlexMcGuire92 and @moneymorningfor updates on U.S. oil prices and production.
Like us on Facebook: Money Morning
How to Profit from Oil Prices Right Now... Spotting healthy oil stocks to buy is tricky for many investors because of the low-price environment. But there are still plenty of profitable gems in the oil sector. Here's a roundup of the best oil stocks to buy now as prices stabilize in 2015...
Related Articles: