How is the stock market doing today, May 26, 2015: The stock market slumped 190 points as Greece woes, Federal Reserve rate chatter, and a stronger dollar fueled a sell-off.
How Is the Stock Market Doing Today?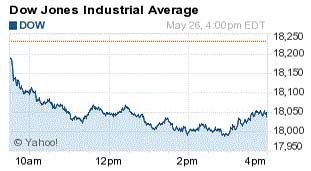 Markets fell across the board:
Dow:  18,041.54, -190.48, -1.04%
S&P 500:  2,104.20, -21.86, -1.03%
Nasdaq:  5,032.75, -56.61, -1.11%
The U.S. dollar was near a one-month high against a basket of international currencies, while statements from Fed Vice Chair Stanley Fischer signaled the central bank's plans to increase interest rates could fuel global market volatility.
The S&P 500 Volatility Index (VIX), the market's fear gauge, surged 15.9% on the day.
Top Stock Market News Today
Market Recap: All 10 S&P 500 sectors slipped this afternoon, with the energy sector seeing the sharpest decline. A stronger U.S. dollar and expected increases in domestic production triggered the downturn. WTI crude futures for July fell 2.6% to hit $58.12 per barrel. Meanwhile, Brent oilwas down more than 2.6% to hit $63.81 per barrel. Shares of Chevron Corp. (NYSE: CVX) slipped 1.5%, while Royal Dutch Shell Plc. (NYSE ADR: A) fell nearly 2.5%.
Goldman Growls: Banking giant Goldman Sachs Group (NYSE: GS) recently forecasted that the S&P 500 will remain flat over the next 12 months. The adage "Sell in May, and Go Away" has sent some investors to the exits. But our Chief Investment Strategist Keith Fitz-Gerald has a message to investors: Don't listen to what they are saying, follow what they are doing. And Goldman is up to something… watch Keith's recent comments during an interview on FOX Business
Stocks to Watch: TWC, CHTR, FSLR, FSPN, AAPL, EMC
What Investors Must Know This Week
Don't get embarrassed by not knowing what's going on in the markets – stay informed by following us on Twitter @moneymorning.